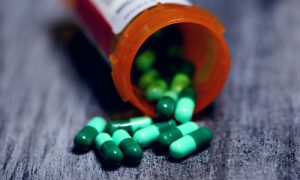 Regardless of their political affiliation, Virginia voters strongly support the creation of a Prescription Drug Affordability Board to rein in drug prices and are more likely to vote for candidates who endorse the policy, according to a recently released AARP Virginia voter survey.
Sen. Bill Stanley, who supported the legislation in the Senate in 2023 and plans to push for it again next year, said the creation of the board is important. 
"In my district, the two-thirds of Virginians taking prescription drugs are making life or death decisions on a monthly basis – whether to spend money on drugs, put food on the table, or keep a roof over their head," said Stanley, R-Moneta. "To sacrifice life for the sake of profit is not something I'm going to do. It's either greed or good."
The survey, conducted in June by the Wason Center for Civic Leadership at Christopher Newport University, revealed that two-thirds of Virginia voters ages 18 and older say they regularly take prescriptions. Overall, more than one-third of Virginia registered voters report having opted not to fill a prescription their doctor had given them, and two-thirds say they are very or somewhat concerned about being able to afford the cost of medications they or a family member may need.
The needs of Virginia and creation of the board "should be Job one and that all other matters come second," Stanley said. "We cannot stand and do nothing. Today is the first day we must affirm that the people of the commonwealth matter. They are the most important resources," said Stanley. 
"I will support and carry it with the same passion that I carry bills whether it be for beagles or for criminal justice," he added. 
Stanely was joined at the virtual news conference hosted by AARP Virginia by Del. Karrie Delaney, D-Centreville, who will sponsor the proposal in the House of Delegates.
The survey "results validate what I hear from my constituents when I'm out at their doors — that necessary, life-saving medication is too often out of reach, and they support any and all efforts to reduce healthcare expenses, including a Prescription Drug Affordability Board," she said.
"There are too many people who are making a choice between putting food on the table, keeping a roof over their head, and lifesaving and very essential to their quality-of-life medication," Delaney said. "We just don't have room for those kinds of decisions in Virginia."
Her daughter contends with Type 1 diabetes, "and I understand," Delaney said. "The cost of managing" the illness and the cost of medicine needed "to just to stay alive is astronomical. The General Assembly must come together in 2024 to pass this legislation and save millions of dollars for hardworking Virginians."
"I've had patients call me in a panic because the medication I prescribed that they need is too expensive," said Dr. Rommaan Ahmad, Virginia state lead for the Committee to Protect Health Care. "I can tell you, as a physician, that when a particular medication doubles or triples in price, it is not twice or three times more effective."
Ahmad, a Sports Medicine and Pain Management physician in Alexandria, said "We see every day how people struggle. I've been doing this almost 15 years now, and a lot of new" medicine and treatments "have come up in the last 15 years, but we can't always keep up with new medicines because of the costs."
Ahmad said she and other doctors in the practice are "giving the same medicines as" were prescribed in the 1970s. "We are forced to write prescriptions for generic medicines that we don't think will really help" while going through the process of pre-approval from insurance carriers, she said.
Three-quarters of Virginia voters aged 18 and older support the creation of a Prescription Drug Affordability Board (PDAB). The board would evaluate drug costs and set limits on how much Virginia payers, from state agencies to health plans to individuals paying out of pocket, will pay for prescription medications.
Support for a PDAB is strong across party lines, with 85% of Democrats, 71% of Republicans, and 70% of Independents agreeing with the policy.
A firm majority of voters – 60% – said support for a PDAB would motivate them to vote for a candidate for the Virginia General Assembly.
"In an age in which voters don't always agree on much, they agree on this: The skyrocketing costs of prescription drugs is a critically important issue, and a Prescription Drug Affordability Board is a good solution," said Jim Dau, AARP Virginia State Director. "Every candidate running for the General Assembly this fall should know that supporting a drug affordability board is a common sense, bipartisan way to win over voters."
Norfolk resident Jillian Goodwin, 31, takes 20 prescription drugs to treat cystic fibrosis. She said that she is lucky to have health insurance to help defray the costs of her medication.
"Without insurance, I truly wouldn't be here today," she said, noting that without insurance coverage and prescription drug discount programs, her copays would be $1,600 per month, which is more than her mortgage payment. She said one of her new medications retails for $360,000 per year.
Support is high among Virginia voters for three other legislative proposals about which they were asked. Nearly nine in ten voters voice support for having the Commonwealth join buying pools with other states to be able to offer discounted prescription drugs. Three-quarters of voters say they support establishing a maximum amount to be paid for certain drugs and importing drugs from countries with equivalent safety and quality standards. 
AARP Virginia supported PDAB legislation during the 2023 General Assembly. The measure passed the State Senate with bipartisan support but died in committee in the House of Delegates.
"We are at a crossroads here where it's either greed or good," Stanley said, adding that he, Delaney, and like-minded counterparts "will be encouraging the legislators this year to put good over greed."