The 69th annual Patrick County Agricultural Fair is set to be held from Tuesday, September 12 to Saturday, September 16 at Rotary Field in Stuart.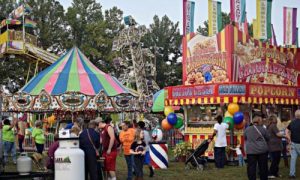 Sonny Swails, a member of the Rotary Club of Stuart who works on the fair project, said the weather is forecast to be gorgeous, with no chance of rain to hinder the fun.
"We had one year off which was 2020. This is our third year after the pandemic, and I think people have begun to find us after we had shut down for a year. We're expecting a really great year again," he said.
Swails said the annual fair is sort of the county's flagship event for the year.
"I'm not sure that any other event in Patrick County brings in the amount of people that we bring into the fair. So, it's a big deal for Patrick County," he said.
He estimates the fair attracts 8,000 to 9,000 visitors annually, excluding volunteers and those who receive free passes.
Because the Rotary Club isn't allowed to take any funds from the fair proceeds, Swails said proceeds will either be pumped back into the maintenance and upkeep of Rotary Field or donated to an organization in the county.
"We give scholarships to graduating seniors at the high school, we support the Free Clinic (Caring Hearts Free Clinic), we support the food bank (Patrick County Community Food Bank)," he said.
The annual Demolition Derby is set for September 16 at 7 p.m., and. Swails said a Power Wheel Derby will start at 6 p.m.
"That's for the little kids that come in with their battery-operated demolition derby cars. We put balloons on them, and they try to pop each other's balloons which is kind of a cute little event," he said. 
There will also be entertainment nightly in the Hooker Building from 6 to 9 p.m. showcasing Patrick County talent. On Thursday, Herbert & Tina Conner, Patrick County Dancing Arts, Cindy Joyce, Trinity Church, Burgie Penn, and Barry Hutchens will perform.
Shelley Roberts, Debbie Bennett, Borrowed Earth, Scott Eustler, Joyful Noise, and Rick Hill will take the stage on Wednesday night. 
Thursday night features Sue Nester, Jackie Belcher, Mike Hall, and Phillip Adams performing with Mary Joe & Charlie Leet, Ron and Tommy, Garry Collins, Marcie Horne, Jason Harris and Sawmill Road performing on Friday.
On Saturday, Jordon T. Morrison & the Foothill Boys will perform before the first ever square dance is held from 6:45-8:15 p.m. Snow Creek Old Time Band, Charles Bowman, Old Dominion Cloggers, and Margarie Richard will perform during this time. 
Following the square dance, there will be a clogging and flatfooting contest with the winner chosen by the crowd, and $20, $15, and $10 cash prizes for the top three performers.
A Saturday afternoon matinee designed for small children will be held from 3-6 p.m., and those who come during this time with a small child will receive free admission.
"From 3 p.m. to 5 p.m. we will sell a wristband to families that come in and bring small children to ride. At 5 p.m. we will stop selling those wristbands, but the rides will continue. At 6 p.m., we will turn on all the rides, so the big rides and everything else will be opened up to everyone," he said.
Wristbands for the Saturday afternoon matinee are $15. Swails said wristbands are $25 at the gate, or $20 by preordering them by September 12 at 6 p.m. at www.innovativeticketing.com and searching for Patrick County Fair 2023.
For more information, go to www.patrickcountyfair.com, or Facebook.com/PatrickCountyFair.