The Patrick County Master Gardeners will hold its annual plant sale on Saturday, April 29, at the Rotary Field building in Stuart. The sale is from 8 a.m. to 12 p.m.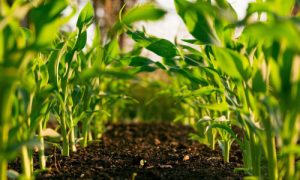 Master Gardener Norma Bozenmayer said the plant sale is the group's biggest fundraiser.
"We also have the plant sale to kind of spread the plants that grow well in the community around the community at reasonable prices, so that everyone can have a lot of plants," she said.
The fundraiser has been held for more than 10 years.
Bozenmayer said half of the sale proceeds will help a non-profit in the county. In the past, the group has donated to Park Workshop, the Developmental Center, the Patrick County Community Food Bank, Caring Hearts Free Clinic, the book mobile, and other local organizations.
"We haven't voted yet on where it's going this year," Bozenmayer said, adding the remaining half of sale proceeds benefit the group's annual scholarship fund.
"We give a $1,000 to a high school senior graduating that's going into some type of horticultural or biological science degree. All our other programs in town, we buy soil and plants and all kinds of things for everything. So, everything gets turned back into the community," she said.
Available plants for purchase include perennials for sun and shade, shrubs, herbs, vegetables, and native and non-native plants.
Bozenmayer said she believes the sale's prices are very reasonable. 
"Most of them are $1-$2. Probably the most expensive plant is $7 or $8," she said.
The sale will also include more plant identification on the tables.
"We've been working hard on that, so people can not only buy plants but learn about plants while they're there," she said.
Anyone wishing to donate plants to the sale can drop them off from 10 a.m. to 12 p.m. and from 4-6 p.m. on the Friday before the sale. 
Those wishing to make a monetary donation can contact the group at mgpcva@gmail.com.
Ag Demo Day, hosted by Patrick County Farm Bureau, also will be held Saturday at Rotary Field from 10 a.m. to 2 p.m. 
Activities will include equipment and safety demonstrations, a Tractor Skills Competition, Barnival, animal exhibits and vendors, and youngsters will have the opportunity to ride the Pig Train and interact with animals up close. 
The event is free and open to all ages.
Food trucks will be onsite throughout the day.
Vendors include Farm Service Agency, Patrick County Soil & Water Conservation District, Natural Resources Conservation Service, James River Equipment, Rural King, and Wood's Cold Storage.
For more information, go to Facebook.com/PatrickCountyMasterGardeners.