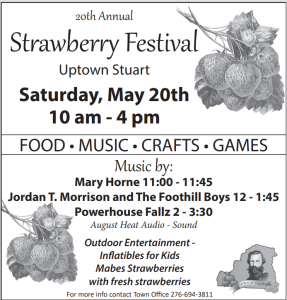 Main Street is the site of the Town of Stuart's 20th annual Strawberry Festival on Saturday, May 20, from 10 a.m. to 4 p.m.  
In addition to numerous vendors, Town Coordinator Billy Gammons said Mabe's Berry Farm will be onsite with their strawberries and inflatables will be available for children to play.
So far, 74 vendors have registered to set up at the event, and more are expected.
"We'll actually have people that show up that haven't registered, Gammons said. "We always have a few." 
Interested vendors should call the town office to register.
Gammons said music will also be played throughout the event.
"Starting at 11 a.m. to 11:45 a.m., is Marcie Horne, and from 12 to 1:45 p.m. is Jordan T. Morrison & The Foothill Boys," he said. Powerhouse Fallz will perform from 2-3:30 p.m.
For more information, call (276) 694-3811.