The 22nd annual Apple Dumpling Festival will be held on Saturday, Oct. 21 from 10 a.m. to 4 p.m. in Stuart's historic downtown district.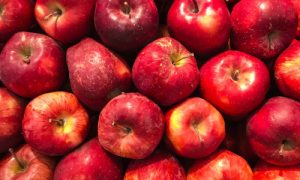 Stuart Town Manager Bryce Simmons said Patrick Avenue will be closed off from the dry bridge down to the intersection of Commerce Street, "which includes the parking lot that is right there in front of Tony's Pizza and Calliope."
Typically, between 80 and 100 vendors set up at the festival, he said, and added the vendors offer a variety of items, including handmade crafts, food, jewelry, and others.
There is no deadline for interested vendors to apply, but there is a cost of $25 per vendor.
"We typically will accept vendors up until the day of the event," Simmons said.
Those interested are encouraged to call the Town Office and ask for Billy Gammons at (276) 694-3811, or email billy.gammons@stuartva.org.
Marice Horne and Mike Pendleton will perform from 10-10:45 a.m., and Reggie Johnson "Bluesman" will take the stage from 11-11:45 a.m.
From noon to 12:45 p.m., Ben Currin "Music with Ben" will perform with Jordan T. Morrison and The Foothill Boys finishing the event from 1-2:45 p.m.
The Patrick County Chamber of Commerce, in partnership with the Dan River Basin Association (DRBA), will hold the annual Apple Dumpling 5K fundraiser.
The race is held on the Mayo River Rail Trail and starts at 8 a.m. in Downtown Stuart. Registration for the race begins at 7 a.m.
Proceeds from the event will benefit DRBA's trail development in Patrick County. 
Pre-registered runners will be guaranteed a T-shirt to commemorate the race, and all runners will receive a finisher medal, marked course, and chance for awards.
The cost to register is $25 in advance or $30 the day of the festival. 
For more information, contact Rebecca Adcock at (276) 229-9917.