When Nellie Quackenbush returns to the farm from the big city, will Noble Hart still have her heart?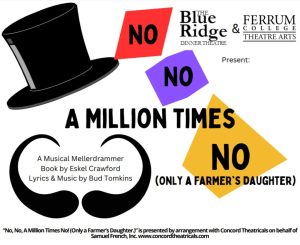 Coming to the New Blue Ridge Dinner Theatre, October 19 through 22, is No, No A Million Times No (Only a Farmer's Daughter). This light-hearted musical melodrama features plenty of romance and toe-tapping tunes that are sure to put a smile on your face and a song in your heart. "Everyone leaves the theatre feeling 100 times better than when they walked in," director Rex Stephenson says of the power of the story that has held its appeal since 1957.  
The veteran cast, under the direction of Stephenson and Emily Blankenship-Tucker, (Music Director), features Michael Trochim as Pappy, Kristina Stump as Birdie, and TJ Baker as Duplikate, with a multi-generational company of Ferrum College students and community members. 
A tasty buffet precedes the matinee performances on Thursday, October 19 and Sunday, October 22.  The actors in the company serve as waiters and the meal is designed around the theme of the play. Evening performances, (show only), are on Friday, October 20 and Saturday, October 21 at 7:30 pm. Call 540-365-4355 or go to our website www.ferrum.edu/theatre-tickets for reservations.