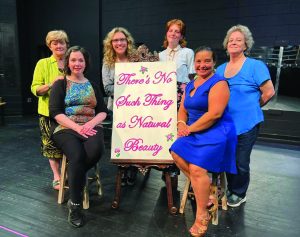 The Blue Ridge Dinner Theatre and Ferrum College Theatre Arts season will open with Steel Magnolias, by Robert Harling, on Thursday, August 24. The comedy-drama based on a real family's experiences with diabetes and kidney failure is both moving and thought-provoking.
Steel Magnolias has been performed all over the United States, England, Australia, and Canada, however, most folks remember the 1989 movie featuring Dolly Parton, Julia Roberts, and Sally Fields. 
The dinner theatre cast features veteran performers Emily Blankenship-Tucker, Rebecca Crocker, Kristina Stump and Lana Whited. Newcomer Heather Jefferson will enact the delightful role of Annelle, and TJ Baker will perform Shelby. 
The performance will be staged in Sale Theatre, Scholfield Hall with luncheon and dinner options served in Franklin Hall. The show will open Thursday, August 24, with a luncheon at 12:15 and curtain at 2pm. Additional show dates are Saturday, August 26, with dinner beginning at 6:15 p.m. and curtain at 8, and the final performance on Sunday, August 27, with a luncheon beginning at 12:15 and the play starting at 2pm.
Crew for the show includes Rachel Blankenship-Tucker as production stage manager, Susan Blankenship as her assistant, Debra Smith as technical advisor, and Sara Bier and Ferrum College Theatre Arts students as backstage crew. Rex Stephenson will direct. Call (540) 365-4336 or visit www.ferrum.edu/play-tickets for tickets and information.