Patrick County High School (PCHS) was selected as the winner of the 2023 Region 6 No Kid Hungry Virginia School Lunch Hero award on May 5, National School Lunch Hero Day. PCHS is now in the School Lunch Hero Hall of Fame for Virginia.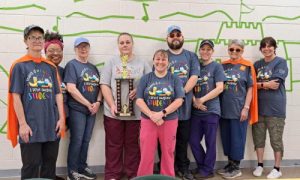 No Kid Hungry is a national campaign run by Share Our Strength, a nonprofit working to solve problems of hunger and poverty in the United States and around the world. After 25 years of successfully investing in local nonprofits and helping find the best approaches to eradicating poverty and hunger, Share Our Strength launched No Kid Hungry in 2010. At No Kid Hungry, their promise is to impact childhood hunger in the state of Virginia with the belief that "No Child Should Go Hungry in Virginia."
As an effort to recognize some of the key players in helping to combat hunger, each spring they recognize schools in every region in Virginia for their hard work and dedication to the students in our schools.
Between preparing delicious food, adhering to strict nutrition standards, navigating student food allergies, and offering service with a smile, nutrition professionals have a lot on their plate. To celebrate their hard work and commitment, schools celebrate School Lunch Hero Day on May 5. This day, celebrated annually since 2013, was designated by The School Nutrition Association and Jarrett Krosoczka, author of the "Lunch Lady" graphic novel series. School Lunch Hero Day provides an opportunity for parents, students, school staff, and communities to thank those who provide healthy meals to nearly 30 million of America's students each school day.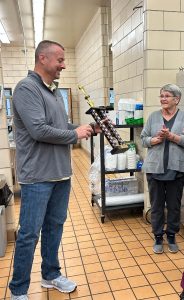 Patrick County Public Schools Superintendent Jason Wood presented the trophy to Mary Jo Knight at Patrick County High School Cafeteria. Mary Jo is our senior employee. She has dedicated many years of service to the school nutrition department. She will be retiring at the end of the school year. No Kid Hungry Virginia also gave each employee a goody bag. A $100 gift card was presented to them to buy decorations for the serving lines
Melissa Boyer, cafeteria manager, is an outstanding team leader. With her leadership and an awesome team of school nutrition professionals, meal participation has increased tremendously at breakfast. Some days, they serve as many as 600 students at breakfast. They have worked many days shorthanded without any subs. That hasn't stopped them from preparing nutritious meals, oftentimes scratch made for our students. We are very proud of the hard work and dedication shown by this wonderful group of professionals.
I am proud of each and every cafeteria in our school district. They are some of the hardest-working professionals I know. They truly care about the students in Patrick County Public Schools.
(Rogers is the Director of Food Service for Patrick County Public Schools.)