More than a dozen candidates outlined their platforms and goals if elected at the Patrick County Young Professionals (PCYP) candidate forum held October 10 at the Star Theatre.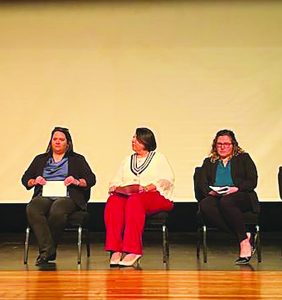 The three candidates vying for the Clerk of Court post — interim clerk Morgan Boothe and challengers Nancy Belcher and Erica Cipko Wade – each were among those addressing voters. 
Interim Clerk of Court Morgan Boothe said she was hired in the clerk's office in 2017 and has worked in every department within the office over her six-year tenure.
Since being appointed interim clerk by Patrick County Circuit Court Judge Marcus Brinks, Boothe said the office has come a long way since November, in part because of the staff.
"I couldn't have made all of these changes and cleaned up and caught up all that we did without them. I'm truly grateful for their support throughout this year, and I think that speaks volumes that they are in my corner," she said.
Boothe said she thinks she's the most qualified candidate for the position because of her experiences working in the office for six years as a Deputy Clerk plus one year serving as interim Clerk of Court. 
"I am the most qualified to continue what I'm already doing. I have actual clerk experience, and I think that sets me apart from the others," she said. "I have upgraded our office quite a bit in just one year, and I have many plans for the years to come that would benefit the citizens of Patrick County if elected."
The frustration experienced by Belcher and her colleagues prompted her decision to seek the post, Belcher said.
"I wanted to be able to fill that void. The clerks are doing a good job for what they know," Belcher said. "However, they don't know what they don't know, and having worked in this field for 25 years, I have seen, and I have experienced, the good, the bad, and the ugly."
Regarding Brinks' appointment of Boothe as interim clerk, Belcher cited section 24.2—228.1 of the Virginia Code, and then explained that "in layman's terms, because most of us don't have law degrees, that simply means that Judge Brinks was mandated by law to choose Ms. Boothe."
Belcher added this was but one example of how her 25 years of experience can come into play.
While she knows the law and has worked with some of the best attorneys, Belcher said she lacks in-office experience, but she believes that is not always a bad thing.
"We got bit last time because of in-office experience. Let's not let that happen again," she said of retired clerk Sherri Hazlewood, who had many legal concerns.
Some goals Belcher has for the clerk's office include improving customer service and imparting and sharing the knowledge she has gathered over the last 25 years with the clerks, so they can better understand the legal system as a whole.
"Because the mistakes that are happening, they continue to happen. It impedes the justice procedures," she said.
Wade said the journey of seeking the post has been eye-opening. 
"I come before you not as a career politician, but as one who is a community-driven individual with an honest background. My life has been woven in this community and that's why I'm here, to pledge my service as the clerk of court for this office," she said.
Wade said her goal is to 'right the wrongs' of the current clerk's office. 
"One of the reasons that Ms. Boothe was appointed is because she was the senior clerk in the office at that time," Wade said. "They could have chosen to go outside of our county like they did when they brought in some outside clerks, but they chose not to because this was the easy fix, I believe."
Wade said she sees continual issues in the clerk's office while working with two different attorneys' offices, and noted that she doesn't frequent the clerk's office as much as she used to "simply cause I'm not met with the nicest faces these days, and that's frustrating."
Wade's goal is to bring some variation to the clerk's office. One challenge she believes the office will face is working together to get everyone adequately trained.
"None of our clerks are currently certified Deputy Clerks or Master Deputy Clerks," Wade said. "Some of the other surrounding areas do have those, that would be a goal of mine to make that happen." 
Another goal is to bring everyone in the office up to an adequate level of accountability and transparency while still serving the public as the office should.
"The reason, and I hate to say negative things, but the reason in-office experience doesn't work is because it was proven not to work in our clerk's office," she said. "A few years ago, the Patrick County citizens elected Ms. Hazlewood, and we saw where that got us. It's not always what's necessary."
State Senate
Incumbent Senator Bill Stanley, R-Moneta, said that since being elected in 2011, he's passed more than 140 bills, a majority "have been concerning our area, Southside and Southwest Virginia, and Patrick County in particular. I always carry our conservative values because in Richmond, what we're facing is Northern Virginia that forgets that we built Virginia down here."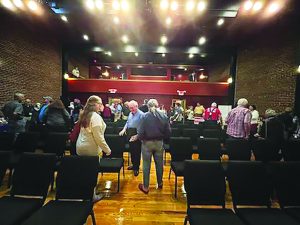 Stanley said that the area tries to dictate what's best for the entire state, "so, we have to fight. We have to stand loud and proud and not give up for one inch, one moment, for one instant. Because otherwise, they will be turning every farm we have into a solar farm. They will be making you buy very electric and inefficient electric cars. They don't even come down here. They don't even know where we are."
Among the most important things in the region are preserving the traditions and values of Southside and Southwest Virginia, and educating children on how to think rather than what to think through indoctrination, Stanley said.
Noting that the average income in Virginia for a family of four is $70,000, but drops to $38,000 in this area, Stanley said modernizing schools and providing more skills and opportunities for students to grow and break the cycle of poverty, find good jobs, and stay in the area is necessary.
Additionally, "there's more we can do to make sure that we don't have food deserts in our area. There's more we can do to make sure that we're not an underserved, underprivileged medical healthcare area. There's more we can do to make sure we're creating job opportunities for our children, as I am trying to do through the New College Institute (NCI)" in Martinsville, he said of the facility that serves Patrick County and other areas as well.
Stanley's challenger, Renie Gates said she is compassionate, committed, and courageous "because I'm here, and I'm fighting for us" because she knows affordable housing, affordable healthcare, mental health, and opioid support are all needed in the area.
"We need to have access to reliable internet so that we can also have phones to be able to contact our neighbors, and be able to gain knowledge, and be able to help our students in school," she said.
Reliable, accessible, and affordable transportation is also important, she said, noting that many people have told her they are having problems with transportation to medical appointments.
"Right now, you're an hour and a half away, if you go to Roanoke, and that's a lot of time you have to commit to be able to take your mom, your dad, and your kids to those locations," she said.
Gates said ensuring medication is affordable is another necessity to help people have a better quality of life and living.
"I do have a lot of hurdles that we will have to overcome, but I have kids, and I'm smart, and I'm capable. I know that I can do this if you guys have the same faith in me," she said.
House of Delegates
Del. Wren Williams, R-Stuart, did not attend the forum, but his opponent, Patty Quesenberry, said many people are one paycheck away from being homeless and losing their homes. 
"Trying to make sure that you have your bills paid, food on the table, trying to decide whether to fix your flat tire, or whether you need to get your medicine or pay your light bill. People still have that continual struggle," she said.
In her positions as a housing counselor, in foster care, in-home counseling, and medical support, "I've actually asked people every time I go what do you think are the key issues. I hear housing, of which I'm very familiar with, we don't have enough housing benefits, we don't have enough subsidized housing," she said. "People pay" outrageous prices "if they have bad credit, and they need to have safe housing just like everyone else."
Quesenberry said she also feels like women need to be able to have the right to reproductive freedom and the government should not have control over their bodies. She added broadband is another important issue that needs to be addressed.
"If you don't have functioning internet, then you're not going to have the ability to get employment, have your children educated well, and people that are working from home," she said.
Other candidates who participated in the event included incumbent Patrick County Sheriff Dan Smith, Treasurer Sandra Stone, Amy Walker, Ryan Lawson, Shannon Harrell, Clayton Kendrick, Danny Foley, Clyde DeLoach, Steve Marshall, Richard Kreh, Glennda Morse, Tabitha Overby, and a representative for Dayna Bobbitt.
To view the full forum, visit Facebook.com/TownofStuart.