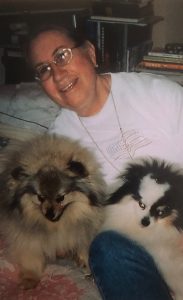 Carol Ann Cockram, 83, of Vesta, VA, passed away peacefully on Tuesday, July 25, 2023, at Blue Ridge Therapy Connection. She was born on December 14, 1939, to the late Winters Cockram and Harvey Cockram.
She was of the Christian faith and worked at the VPI Extension Service until her retirement. Carol graduated from Meadows of Dan High School and from Averett College in Danville, VA with a degree in business. She spent most of her career, 31 years, at the VPI Extension Service in Stuart, VA.
Carol was a member of numerous civic organizations which is a statement of her compassion and dedication for helping others. Carol was deeply dedicated to the love and care of her parents and the many pets that came through her doors. Many times, the care of her pets came before caring for herself. She was also very close to her cousin, Claudine Harding.
Friends and family remember her truck farming and keeping a booth with her parents at local flea markets. One of Carol's loves and gifts was art. Her favorite medium was oil painting. She displayed her paintings in local art competitions where she placed first on several occasions.
Carol touched many lives during her lifetime and will be missed by all family and friends.
Surviving are several cousins.
A memorial service will be held at 11am on Saturday, July 29, 2023, at Faith Baptist Church 2090 Cloudbreak Rd Meadows of Dan, VA with Elder Tim McGrady officiating.
Burial will be in the Alex Cockram Cemetery next to Faith Baptist Church.
The family will receive friends one hour prior to the graveside service. Memorials may be made to Vesta Rescue Squad and Fire Department 2925 Jeb Stuart Hwy Vesta, VA 24120.
Norris Funeral Services in Stuart is serving the Cockram family. Online condolences may be made at www.norrisfuneral.com.