Danny Martin, a former math teacher, engineer, law enforcement officer, and park ranger, recently added the title of author to his resume with the release of his book "Corn Squeezins."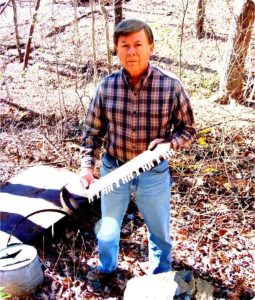 The book details the history of moonshining in Patrick County from the time of the Scotch-Irish settlers through the prohibition era and into more contemporary times.
Martin said he decided to write the book because of his wife, Susan.
"She went to work at Fairy Stone Park when she moved here back in 2000, and she was looking through some old files and found where I had done the playback in the 70s. She immediately, once we met, and got to talking she immediately started saying 'you should write a book,'" he said.
Martin said he also had others tell him about the same thing over the years, especially after he started doing moonshine hikes at Fairy Stone State Park. 
"I finally just did it. I sat down back towards the end of February or early March, and I took about probably two weeks or so. I sat up a lot of mornings until 1 a.m. After I got home from work, I would start on it. After I started on it, I went gung ho until I finished it," he said.
Martin then contacted Tom Perry, owner of Laurel Hill Publishing, LCC, who was interested in publishing the book.
"I went through a couple of proof books and got all the errors and typos and so forth out of it" before it was ready to be published, Martin said.
"Corn Squeezin" is a nine-chapter, 192-page book filled with close to 100 photographs.
Martin said his favorite chapter is the first chapter, 'The Beginnings,' which focuses on the Scotch-Irish settlers coming over in the 1700s.
"They were very strong-willed people, and I think our culture in Patrick County and surrounding counties, the Appalachian area, I think our citizens are strong-willed, and I think a lot of it probably came from our ancestors who settled up and down the Appalachians. 
"They were determined to make a living, and they were going to do what it took, and I think that attitude has carried over for hundreds of years – we're going to do what it takes," he said.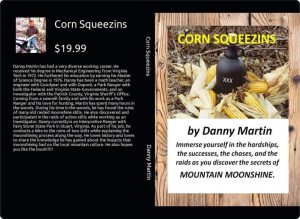 Martin also has a special chapter about a former Patrick County deputy sheriff who became a special agent with the Alcohol Beverage Control (ABC) agency.
"His name is Jimmie Rorrer. He was pretty much legendary in his ability to find stills and conduct raids. I have a lot of photographs I got from his family" for the book, he said.
Though they share the same title, Martin said his book is not connected to the play he previously wrote about the area's moonshining history.
"It was really two separate concepts from the beginning," he said.
The play was initially performed in 1975, and again during the 2022 summer at Fairy Stone State Park's Amphitheater.
Martin said the main difference between the play and the book is the number of skits in the play, which focus on a fictional family, called the Crawly family, who he uses to showcase moonshine's history.
"The play is kind of centered around history, but in the book, I elaborate a whole lot more about the history," he said.
A chapter called 'True Moonshine Stories' details a number of true stories about things that actually happened in the areas of Franklin, Henry, and Patrick counties.
"Some of them are kind of funny, some of them are kind of sad, some are actually tragic. There's one in particular that involves several people getting killed, and that happened in Patrick County," he said.
Martin added he also goes into more detail about the moonshine manufacturing process in the book than in his play.
"I didn't necessarily write it to try and make money off it or get rich off it or anything of that nature. I really pretty much just wrote it to give people an idea about the history and culture, some of the hard times people had in Patrick County, and how they were determined to do what it took to get by, and in many cases that was making moonshine," he said.
Perry said he always wanted to publish a book on moonshine.
There is a "chapter about Jimmie Rorrer, who I always wanted to do a book about. Jimmie was an ABC officer for decades in Patrick County," he said.
"Corn Squeezins" is available on Amazon as a paperback. It is also available in Patrick County at 57 Pit Stop, 57 Grocery, Robert's Market, and Boyd's Restaurant.