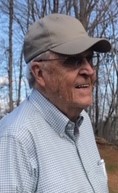 Retired Henry County Circuit Court Judge Kenneth M. Covington, 94, died on Monday, September 11, but his wisdom, fairness, and knowledge of the law will be remembered for decades.
Covington was "the best I've ever seen," said retired Circuit Court Judge David Williams, who practiced before him as both a private and commonwealth's attorney.
"I was blessed, I truly was" to practice before Covington for many years, Williams said. "Practicing in front of Judge Covington was like taking a post-law school graduate course in litigation."
Covington served Henry County as Commonwealth's Attorney for 12 years and then as judge of the Martinsville Municipal Court and Henry County Court, which later became a district court. He retired as a Judge of the 21st Circuit Court of Virginia.
Not only was Covington knowledgeable about the law, but he was also "the best judge of people I've ever seen. He knew when to give them a break and he knew when to put the hammer down," Williams said.  "He had this unique ability. He was tremendously kind to people, and he understood people … their ups and downs, their downs and outs."
Williams said he always thought "If I was half as good as Judge Covington when I went on the bench, I'd be satisfied. He was just the best I ever saw."
"Judge Covington was the template and touchstone for so many judges, myself included," retired Patrick County Circuit Court Judge Martin Clark said. "His influence has been–and will continue to be–generational. He was wise, smart, fair, and knew the law, but just as important, he knew people. 
"Notably, he was thoroughly patient and professional, but somehow, everyone–from litigants to lawyers–understood an important, unspoken rule: It wasn't wise to cross Ken Covington. He simply had a gift and a presence that set him apart," Clark said.
"He ran a perfect courtroom and made it seem effortless. Sadly, he was the last lion from this part of the world, but he surely schooled us all, and we're all better for having crossed paths with him," Clark said. 
Ward Armstrong, of The Armstrong Law Firm in Martinsville, recalled that Covington "was a great jurist. He knew the line, what reasonable doubt was as well as any judge could."
Noting that baseball players don't mind if an umpire uses a wide strike zone or a narrow strike zone, so long as it's consistent, Armstrong said, "You could always count on Judge Covington. He knew where the strike zone was, and that was day in and day out."
Covington also lived by the creed of tempering justice with mercy, Armstrong said.
"He could be tough, but he also understood that people make mistakes. He was the kind of judge that all judges aspire to be, and all lawyers learn from," Armstrong said.
Attorney Fred D. Smith Jr., or Fred D. Smith PC, in Martinsville, said he and Covington served as elders at the Broad Street Christian Church, also in Martinsville.
"We were elders together and we said prayers together," Smith said and recalled that Covington was "the first judge I appeared before as a lawyer. He was a very special man. Just a one-of-a-kind judge and a one-of-a-kind man.
"I'm so thankful for every moment I had with him, both as a judge and as a friend," Smith said.
A native son of Martinsville-Henry County, Covington deeply loved the community and its people and had an encyclopedic knowledge of its history, according to his obituary. He judged people in the courtroom but not in life: his grace and kindness touched many lives, both inside and outside of the courtroom. His mind and spirit were ageless. He learned to play guitar in his early 80s and purchased a home on a trout stream in his late 80s, where he enjoyed the natural beauty of Carroll County and spent many great times with his Laurel Fork friends.
Covington lived in the Ridgeway area of Henry County.
Ridgeway Mayor Craig O'Der, Jr., also a law enforcement officer, said that Covington "was the model jurist. He set the example as a jurist. He will be missed."
O'Der recalled often seeing Covington in the community.
"He was always friendly," O'Der said. His death "is a great loss to our community."