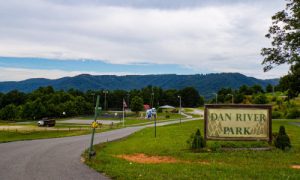 After nearly a decade, the Dan River Park Farmers' Market recently restarted. 
Paige Terry, a member of the Dan River Park Association, said the last market was held in October 2013.
The revamped market opened on Saturday, July 29, Terry said, and a second market on August 4 attracted about seven vendors and 50 customers. 
"So far, it started off a little slow, but," on August 4, "Dan River actually hosted games, which gave a lot more traffic to come in. I think more of the words getting spread, so they had a lot more turnout last week," she said.
The idea to restart the weekly event came about after community residents started posting on the Dan River Park Facebook page that they were interested in bringing it back for both the sellers and buyers.
"Our intentions are just to kind of have locals being able to sell their produce or their goods locally near their own home, which also helps people gather together again and socialize," she said.
Terry said the market will be held at the Dan River Park Pavilion from 9 a.m. to 12 p.m. on Saturdays. 
"Whatever vendors choose to come that Saturday; they are completely free to show up. We'll probably do it up to October, depending on weather and supplies of vendors. Then we'll grow as it continues, but like everything it has to start off kind of small and get established," she said.
Vendors do not have to pay a fee to set up and keep everything they earn at the market. 
Customers also do not pay an entrance fee.
"Our mentality is if you invest in your community, they will invest in you," she said.
Terry said vendors sell items like homemade jewelry, produce, homemade jams, blueberries, and more.
"We'll continue to grow it as it gains more interest because we know the vendors and the buyers will eventually have bigger plans and want to evolve, and Dan River will hopefully help them evolve as time goes on," she said.
For more information, go to Facebook.com/DanRiverPark.