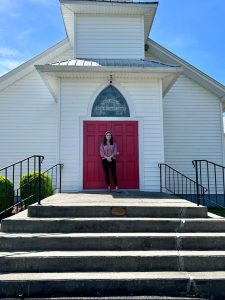 A new daycare hopes to fill the void created by the closing of Appletree Daycare Center in Woolwine.
Jenna Adams plans to open a daycare at the Woolwine United Methodist Church, near Woolwine Elementary School, in early June.
Adams said she was approached with the idea to open a daycare about a month ago.
"Everything just kind of started falling into place, and two weeks after that we went up to look at the church and the church agreed and we agreed, and it just kind of played out. It's really a blessing," she said.
Adams currently owns and operates the Little Angels Early Learning Center in Bassett.
"So, when I was approached about this second one, I prayed about it and everything. I really think that it's part of God's plan for me to open it there," she said.
Adams said the daycare is religious-based and will use a Christian-based curriculum that goes along with the learning. The curriculum will include daily activities, videos, crafts, and more.
"It's almost like a preschool, basically because we have it set up like that just to help the students have that time before they go into public schools to try and get a little bit of a boost," she said.
Adams said children aged two-and-a-half to five years old are eligible for enrollment. She estimates the center will enroll around 30 children in the beginning, with the potential to expand in the future.
"Right now, we're just zoned for that, but we would love to expand," she said. "Especially offerings for the after-school care or summer care, we're really hoping that will draw some more students in since we're right there at" the elementary school.
The daycare will also provide after-school care and summer care. It will be open Monday-Friday from 7:30 a.m. to 5:30 p.m.
Part-time care and full-time care are available. The cost will depend on age and whether youngsters are potty trained.
For example, Adams said part-time care, three days a week or less, for a two-and-a-half-year-old would be $125 per week.
"Full-time, if they are potty trained, is $140 per week. If they are not potty trained, so still in pull-ups, it would be $150 per week," she said.
Adams is currently accepting enrollment applications and is looking to hire employees.
"Right now, we're just basing it off of experience, but I'm hoping to be able to do anywhere from $12 to $14 an hour" for employees, she said.
Those interested in applying for daycare or a daycare job may email Adams at woolwineelc@gmail.com.
Currently, Adams said those who apply will have the $50 application fee waived.
For more information, call Adams at (276) 224-8401.