The Blue Ridge Dinner Theatre and Ferrum College Theatre Arts received a special license to perform Emmet Otter's Jug-Band Christmas for the Winter 2023 season. The Theatre in residence at Ferrum College is the only Theatre granted a license to perform this show to date outside of Timothy Allen McDonald and Music Theater International (MTI).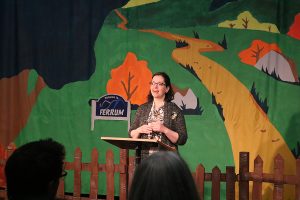 Dr. Mirta Martin credits the talent and passion of the faculty, students and community of the Theatre as the reason this special license was granted by McDonald and MTI. "This is the reason why this great opportunity we are about to unveil has come to Ferrum College for this very special Winter theatre season."
The story of Emmett Otter is often recognized from the 1989 movie featuring Emmett Otter's Jug Band Christmas which originally debuted as a television special in 1977 directed by Jim Henson and is based on a children's book of the same name inspired by "The Gift of the Magi" by O. Henry. The story was adapted for theater by Timothy Allen McDonald, Christoper Gattelli and Paul Willams. MacDonald says he knows Emmet and Ma and all of the critters in Waterville will feel right at home with this production by Ferrum College.
McDonald's journey with the story began almost 10 years ago when Paul Williams suggested it as his next project. The show was first staged with Goodspeed Musicals in Connecticut in 2008 and 2009 where it sold out and people came from all over the globe before it hit some legal snags that kept it off stage for a decade. Once the rights were cleared in 2019, the show eventually opened at The New Victory Theater in New York City among the first eight Broadway shows to try to come back from the COVID-19 pandemic closures.  
This season, the show will run in Ferrum, December 5-17 and in Chicago November 20 through December 31. Chicago rehearsals began last Sunday. While the Henson puppets will be on stage in Chicago and brought to life thanks to puppeteers who sing, act, and dance, the Ferrum show will feature puppets made at the College by the Theatre staff as well as human cast members and musicians.
Rebecca Crocker, Assistant Professor of Theatre Arts and Musical Theatre, said the show was a longtime dream shared by the Theatre. 
"We crafted a letter to Tim McDonald and his response was 'I can't think of a better place for Ma and Emmett to be. This is an incredible opportunity for collaboration between our students, faculty, staff and the community to build puppets ourselves for this production – it will be humans and puppets together. We are incredibly excited!"
Emily Blankenship-Tucker will direct the production. She emphasized the Theatre's interest in the show stems from the values and culture of their own community reflected in this story. "This production is going to be an opportunity for us at Ferrum College to show off who we are and to make the most of what we do best."
Like Dr. Martin, she credits the heart and soul of the Blue Ridge Dinner Theatre as the reason the special license was granted. "The reason, I believe, why ultimately the creative team said 'yes, you can have licensing rights' to something that is precious to them, something they are still stewarding into making its way into the world, is that we told the story of who we are and where we are. We told the story of the work our students do who are our musicians and our performers and our artists and the community that comes together as this Theatre. This company and the work we do, we see it as multigenerational…we play together and for each other."
The dinner theatre cast will feature Ferrum College faculty, staff, students, musicians, community members and veteran performers. 
The performance will be staged in Scholfield Hall at Ferrum College with luncheon and dinner options served in Franklin Hall. Call (540) 365-4336 or visit www.ferrum.edu/play-tickets for auditions, tickets and information.