Ferrum College will host two virtual information sessions for their Master of Science in Athletic Coaching program on July 20.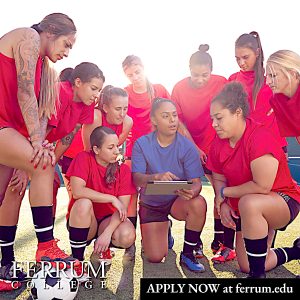 The Master of Science in Athletic Coaching is 100% online and can be completed in one year. The curriculum is designed to develop and prepare coaches to assist student-athletes in the successful attainment of the well-being of mind, body, and spirit that catalyzes athletic performance.
Grounded in current research and framed with leadership, communication, and exercise science principles; this program gives coaches the advanced tools needed to truly understand the athlete and what can contribute to successful individual performance and ultimately successful team and community experiences.
Recent graduate and former assistant women's lacrosse coach Carly Coyle enjoyed the program and found it to be incredibly beneficial. It opened so many more opportunities for her. "There is so much more to athletic coaching that people don't realize or see from the outside. The program at Ferrum College helped me take a deep dive into all the different aspects that come with the game and has developed me into a better coach and person."
Each attendee will receive a $500 scholarship. Participants can choose to attend the 2:30PM session or the 8 p.m. session. The next cohort starts on August 14. For more information, visit www.ferrum.edu/event-page/virtual-information-sessions-for-master-of-science-in-athletic-coaching/?occurrence=2023-07-20.