Several firefighters responding to an afternoon fire call were treated for heat exhaustion Thursday, according to a report from the scene.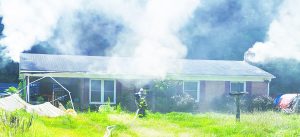 Dispatchers received the call reporting a structure fire at 150 Riverside Drive in Stuart around 2:55 p.m.
Fire crews arriving at the scene found a single brick home with smoke coming from both ends of the attic. Firefighters gained access to the attic and extinguished the fire. The home received heavy damage to the kitchen area as well as the wall behind the cook stove and ceiling. 
Fire crews throughout the county responded to the call, including those from Stuart Fire, Patrick Springs, Patrick County Emergency Services, Fairystone, and Moorefield Store volunteer fire departments. 
While working to extinguish the blaze between 3 and 4 p.m., firefighters were challenged by the extreme heat as temperatures spiked well above 90 degrees. Several were treated for heat exhaustion by members of the Jeb Stuart Rescue Squad.  
The Virginia State Police are investigating the blaze, which was one of multiple events on Thursday. 
Early Thursday, around 8:50 a.m., crews also responded to a call on U.S. 58, according to a report from the scene. Two women were riding their bikes on the westbound side of U.S. 58, just before the stoplight near Wendy's, when one of the women was struck by an 18-wheeler.
The woman suffered from road rash and right leg pain. She was checked out by Stuart First Responders and Patrick County EMS Services, and then transported by Jeb Stuart Rescue Squad. 
The call to report a kitchen fire came in around 2:40 p.m. Stuart Fire and Patrick County Emergency Services crews responded to the blaze at 210 Patrick Avenue. The stove in the kitchen caught fire, and while fire crews quickly extinguished the blaze, the apartment sustained heavy smoke. Fire crews placed a smoke ejector fan in the apartment and were working to clear out the smoke when the call to the house fire was received, according to a report from the scene. 
Firefighters were working to clear the smoke from an apartment when they were summoned to the house fire.