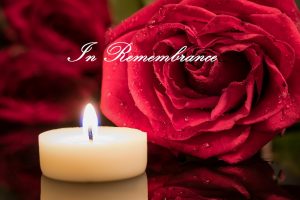 Florine Waddill Kirts of Newport News passed away Aug. 21, 2023. She was born in Clifton Forge on Nov. 26, 1923, to parents Arleen and William (Bill) Waddill of Iron Gate and on Dec. 12, 1944, married Wallace Keller Kirts of Clifton Forge.
She is the mother of Dale Kirts (Heaven), Gary Kirts (Smithfield), Carla Kirts (Smithfield), Rita Milby (Newport News), and Tina Conner (Stuart); Grandmother of Austin Milby (Newport News), Allen Milby (Cambridge, MA), and Cathrine Conner (San Diego); sister of Charles Waddill and Doris Martin (both deceased), and aunt to many nieces/nephews.
Services will be conducted at Nicely Funeral Home (Clifton Forge) Sunday, Aug. 27 with visitation at 1:00, funeral services at 2:00, and interment at Mountain View Cemetery. In lieu of flowers, donations to Florine's local hospice would be appreciated. Call 1.757.889.5900 or go to givebsmh.org (at top, select Bon Secours Foundation, click Hampton Roads; under causes click view all; select Hospice and donate). Discover more about Florine on the Nicely Funeral Home website, www.nicelyfuneralhome.com
Florine was best known for her loving heart and her full-face, beaming-eyes smile. Her loving heart and smile will be missed. Borrowing Keller's favorite message to Florine, we love you "MTY LTT" (more than yesterday, less than tomorrow).