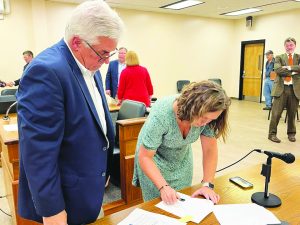 Franklin County's current director of Economic Development was named the new Patrick County Administrator at the September 11 Board of Supervisors meeting. 
Beth Simms, 36, will officially start in her new role on October 12. She will receive a salary of $120,000 per year. 
Simms will succeed Geri Hazelwood, who resigned from the position on March 1. Tim Hall, an executive manager with the Berkley Group and retired Henry County administrator, served as the interim county administrator during the search for the new administrator.
Simms said there would be a couple of days of overlap between her and Hall. Then, it will "just depend on how things play out."
Having grown up on the southside of Franklin County, Simms said she decided to apply for the position because she always enjoyed working with southern partners in Patrick, Herny, and Pittsylvania counties.
"When I was looking for a job change, I was looking in that region. I'm excited for the challenge and the opportunity, and we're excited to move to Patrick," she said.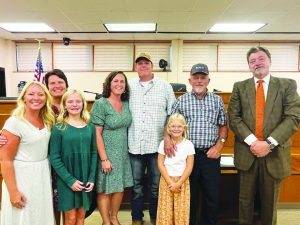 While she is still a resident of Rocky Mount, Simms will relocate to Patrick County within one year of her official start date.
Simms said one thing that attracted her to the job was that Patrick County seemed like a little bit simpler place to live. She was also attracted to the numerous moving pieces and the idea of "putting all those pieces together. 
"I see a lot of potential in the present and the future of Patrick County. You know the school system has a great reputation, you got the Blue Ridge Parkway, there's just a lot of assets that Patrick County can play off of," she said.
As county administrator, Simms said works for the Board of Supervisors, manages the county staff, and works with the community, including its residents, business owners, and other types of organizations.
"I kind of see county administration as a three-legged stool, and so you got to be able to balance all of that," she said.
Simms does not have a preset agenda.
"I don't want to come in from the outside and kind of make declarations. I plan to work with the board, the department heads, and community members and make goals from there," she said.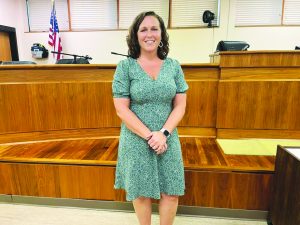 While she has some project ideas in mind, Simms said she will first go through those listed in the job description, such as helping the board create a strategic vision and plan.
"I'm sure as we're going through that, things will emerge and we'll deal with them as we go," she said.
Simms graduated from Ferrum College with her bachelor's degree in 2009 and has done post-graduate work in government, education, and accounting at Hollins University and the University of North Carolina/Greensboro. 
Simms is also a graduate of the University of Oklahoma's Economic Development Institute and the University of Virginia's Local Government Equity Clinic.
She started pursuing her career while in college and was promoted to a management position in the restaurant industry. She served as a Social Studies teacher for two years in Henry County and then was the owner of a CrossFit business in Eden, NC. 
After relocating to Rocky Mount, Simms worked in the beverage industry. In 2020, she was appointed as the Cultural and Economic Development Director of the Town of Rocky Mount where she was responsible for business development, tourism, and the operations of the Harvester Performance Center. She became the Franklin County Director of Economic Development in 2021.
In her free time, Simms enjoys being outside, gardening, traveling, and exploring new places. She and her husband, Kyle, have two dogs.