An account was created on GoFundMe to raise money and help pay for the medical expenses of a Patrick & Henry Community College (P&HCC) student.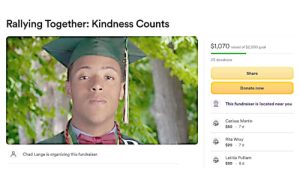 Jaheim Johnson, a current P&HCC wrestler and Patrick County High School (PCHS) graduate, was injured during an off-season wrestling event.
Chad Lange, P&HCC's head wrestling coach, said Johnson suffered a career-ending injury with a broken jaw and other facial injuries.
"As he courageously battles his way to recovery, Jaheim will be burdened with some medical bills, transportation costs, and other unexpected expenses that have added financial strain to his already challenging situation," Lange wrote.
It is during times like these that everyone must come together as a compassionate community and lend a helping hand to those in need, he added.
"Your contribution will make a world of difference. No amount is too small, as your contribution will bring us closer to our goal of providing Jaheim and his family with the necessary means to achieve a full recovery, both physically and emotionally," he said.
In addition to helping cover medical expenses, Lange said the donations will be used to help cover transportation expenses to ensure Johnson can travel to medical appointments, physical therapy sessions, and other necessary trips.
The donations will also be used to cover the cost of missed education and work shifts that Johnson may encounter due to his injuries, and gift cards for food.
As of July 21, the fundraiser has received 23 donations and has raised $1,070 of its $2,500 goal.
For more information, visit www.gofundme.com/f/rallying-together-kindness-counts.