It's October and soon Old Man Winter will be arriving. Are you prepared?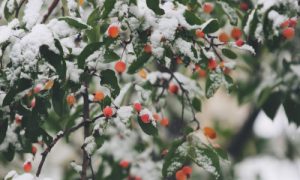 I don't mean is your house winterized or have you pulled out your winter clothes from the attic, but is your garden ready for the cold blast we are about to get? 
As we don't have a delete button for winter it is time to do a little work to prepare your garden for winter. By preparing your garden you will be protecting it from the potential harm the cold can do to your plants. Things like watering, fertilizing, pruning, cleaning up, and mulching will make the difference between a garden that just survives and one that thrives come spring.
Tea Time
Winter is my excuse for drinking more tea and like me the plants need more fluids in the winter.  A major cause of winter damage is a lack of water. 
Plants need water even through the winter months. Deep watering so that there is moisture below the frost line will help to ensure your plants' survival.
If you have clay soil that means slow watering over a longer period so that the water is absorbed. 
Remember that if the winter is drier than usual, you will need to water once a month to maintain your plants.
Fertilizing? Maybe So
Most of your garden should have already been fertilized during the spring or late summer when the plants actively use the nutrients the fertilizer provides.
However, if your plants are looking a little stressed or your soil test indicates a deficiency, then you can do a fall application of fertilizer.  
You would apply a low nitrogen fertilizer after the first frost but before the first freeze.  This will help prevent winter damage. 
Pruning: Yes & N0 
Winter is when you want to do most of your pruning.  Remove any dead, broken, insect-infested or diseased limbs.  
Don't put these limbs in your compost as many diseases and insects can survive the winter.  
Don't remove limbs from newly planted trees.  Save the drastic pruning for the next winter.
Cleaning? Not So Much
Most gardens are spent by this time of year. Many people go through their gardens cutting back all the perennials. Cutting back should be kept to a minimum.  This is not necessary unless the plant is diseased.  
Leaving the stalks and seed heads is both beneficial to the plants and the wild life.  Clean up but leave as much of the plant as you can (making sure to remove infested debris).  
This is also a good time to weed. The weed may look like it is dead, but its roots are not.  
Once the garden has been cleaned up you can see which plants are overgrown and need dividing. This is a good time to divide and plant perennials, before the frost.
Mulch – Later  
Mulching is like putting on that winter sweater that covers you up and keeps you warm.  It covers up the soil and helps to maintain soil temperature.  
But a frost/thaw cycle can be more damaging to your plants than a solid winter blast. The mulch may warm up the ground so much that it promotes plant growth. So, wait until the first frost to mulch. A  3 to 4 inch layer of mulch also helps to keep your plants from heaving up out of the ground.  
Avoid piling your mulch volcano style around trees. This promotes insect infestations and may even allow them to over winter. It also can promote rot. 
With a little work in the fall and then in the winter, you can thwart Old Man Winter and have a thriving garden in the spring. Remember: each season brings its own joy in the garden. To appreciate the beauty of a snowflake, you have to stand out in the cold. 
Walker, Jennifer (2019) SJU Expert Offers Tips on Winterizing Your Garden. https://www.sju.edu
Sanchez, Nicole (2020) Five Garden Winterizing Tips. https://extension.oreganstate.edu
Master Gardener Program (2020) Winterizing Your Yard. http://s3.wp.wsu.edu