Two incumbents are battling for the Blue Ridge District seat on the Patrick County School Board in November: Ryan Lawson and Shannon Harrell. Lawson is the current incumbent in the Peters Creek District, He was shuffled to the Blue Ridge District during redistricting.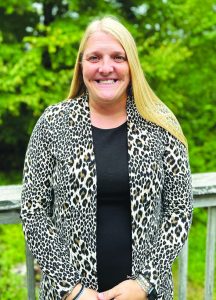 Harrell, 35, said she believes one of the biggest challenges the school system is facing is accreditation, which is tied to student attendance.
"That can be really difficult because that's kind of something that's outside of the school's control to an extent," she said.
Harrell said Patrick County High School (PCHS) has been trying to work with positive reinforcement to increase attendance. For example, she said PCHS is holding a competition between the different grades, with the winner to be the one with the best attendance rate.
"So just trying to do some positive reinforcement instead of just the negative like the phone calls and the truancy. So, that's something we're facing, just trying to encourage school attendance. We definitely don't want kids to come if they're sick, but otherwise we need them there," she said.
While the schools are still dealing with the learning loss suffered due to the COVID-19 pandemic, Harrell said the teachers and staff have done a really good job at overcoming it, in part because of the adopted Core Knowledge Language Arts (CKLA) curriculum.
"That really works on reading, but it's a cross curricular program, so students are reading, but they're also learning some history, learning some government. I think that's something important that we've done to try and get ahead of the learning loss," she said.
Harrell said the school division went through different curriculums and picked the CKLA curriculum and "kind of was ahead of the game compared to the rest of the state of Virginia" because it was one of the few school systems that went ahead and used it.
"So now with all the really good numbers coming back from that where it's helped increase our reading scores and stuff in our lower grade levels, it looks like a lot more school systems are going to adopt something like that," she said.
To help address the learning loss, Harrell said the school system is also trying to have more teaching assistants and keep class sizes small, so the student to teacher ratio is better. That will allow for more one-on-one time between students and teachers. The school division also implemented some positions it didn't have before to try and help with the learning loss.
Harrell believes public involvement is important as the school board serves the public.
"We've been trying to have the schools send out more information. So, like at the high school, I know they post a lot of stuff on Facebook," she said.
At Meadows of Dan Elementary School, Harrell said a weekly phone call to parents lets them know what will be going on that week, such as drills, to allow parents to speak to their children about it. Schools are also releasing newsletters to let parents know how they can be more involved.
"We're also having more volunteer training so that parents or community members can come be a part of the schools. We always welcome people to come to our meetings," she said.
Harrell said she supports transparency as long as it's not a situation where one has to protect the students' rights.
She also thinks schools are already transparent, and noted when there's been a lockdown drill or a teaching lockdown, schools have notified the parents to let them know what's going on.
Harrell said she believes the school division is excelling academically.
"We've been recognized as one of the top schools in our cohort, which compares our students' scores to those in surrounding counties and in the state of Virginia, and then in the United States," she said.
As the students are being recognized, Harrell believes it's a testimony to the students, community, and school staff.
Harrell said the school division is currently making improvements, primarily because of the one percent sales tax.
"We're being able to make improvements to some of the areas that maybe have been neglected because of a lack of funding," she said. "So, we're making those improvements like with the bathrooms and locker rooms at the high school, it's just not for sports it's going to be for Title 9 compliance for male and female, and then also for our students with disability it allows them to have a larger area."
Improvements will also be made to the PCHS tennis courts and football field lights and to the other schools' bathrooms.
"It's not that necessarily that anything was broken, but it's nice to be able to go in and make some updates that maybe were overdue," she said.
Harrell believes people should vote for her because she gives the teacher perspective on the board. 
"I've been an educator for 15 years, so I think that's the role that I serve on the board is to ask those questions from the teacher's perspective or from the educator's perspective," she said.
Harrell is also invested in the community as she's a mother of two children and understands what it's like to have children in the schools.
As a coach, she works with the Patrick County Parks and Recreation Department, and serves on the board's gifted committee, transportation committee, and recreation department committee.
Throughout her tenure, Harrell said she's had good communication with the people who have contacted her with their issues. 
"I've been thanked by numerous staff members, not just teachers, but bus drivers and other people who work in the school system. You know, they're just grateful that I listen to them or the questions that I ask," she said.
A Meadows of Dan native, Harrell has been married to her husband Dennis for 13 years. The couple have two boys, Dorsie, 7-years-old and Dawson, 3. 
Harrell graduated from Radford University with a B.S. in mathematics and an M.A. in education with a concentration in mathematics. She received her M.A. while she was teaching.
From the fall 2009 until spring 2014, Harrell was a math teacher at PCHS where she taught Algebra I, Geometry, and Algebra II. Since fall 2015, she has taught at the Piedmont Governor's School for Math, Science, and Technology (STEM) at the Martinsville site, teaching 11th grade Pre-Calculus with Trigonometry for college credit and 12th grade Statistics I and II for college credit.
In her free time, Harrell enjoys being outside, riding four-wheelers, tie-dyeing, reading, and spending time with her family.