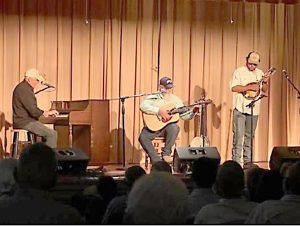 The Patrick County Music Association (PCMA) will hold its next show on Saturday, March 18 at the Rotary Building in Stuart.
Sponsored by Pilot Mechanical, Inc., doors open at 5 p.m. and the music will start at 6 p.m.
PCMA President Denny Alley said New River Line, a country quartet, will open the show, with the Jeff Little Trio to headline the event.
"Jeff Little is the piano player. He plays bluegrass and country piano on the piano like Jerry Lee Lewis, don't even look," Alley said.
In 2014, Little was inducted into the Blue Ridge Music Hall of Fame and has been featured on National Public Radio and Public Broadcasting Service (PBS).
Steve Lewis, the acoustic guitar and five-string banjo player is an award-winning player and a two-time national champion on the banjo.
Luke Little, "Jeff's son, plays the mandolin and he is a multi-award-winning musician," he said.
Alley estimates around 175 people attended the February show. He added that the PCMA will hold three more shows – from April to June – before taking a break over the summer. Shows are expected to return in October.
Admission is a $5 donation at the door. Lawn chairs are encouraged, and prizes will be awarded throughout the night. 
Concessions will be available for purchase from the Patrick County Shooting Education Team, with proceeds going to teach children in the area firearm safety.
For more information or to watch past music performances, visit Facebook.com/PatrickCountyMusicAssociation.