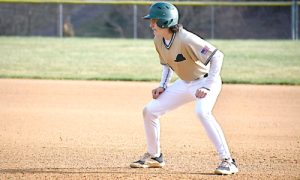 The JV Baseball Team hosted Floyd on Monday, March 27, getting a 12-2 win in 5 innings over the Buffaloes. The Cougars had a big 2nd inning, scoring 6 runs. David Lawson, Easton Harris and Chance Corns all had RBIs. Easton Harris got the start on the mound before handing the ball over to Christian Hylton. David Lawson and Calvin Lancaster pitched as well, with all four allowing only 4 hits and 2 runs while striking out 4. Lawson and Jackson Callahan led the Cougars with 2 hits each. Lawson had 2 RBI's. On Wednesday, March 29, the JV Cougars traveled to Tunstall where three PC pitchers combined for a 3 hit shutout. Christian Hylton started on the mound and went 3 innings, striking out 2. Lucas Taylor followed with 3 strong innings, allowing 1 hit and striking out 2. David Lawson closed with 2 strikeouts in an inning of work.
Calvin Lancaster led the hitting attack with 2 hits and 5 RBIs including a bases loaded triple in the 7th inning. Lawson had 3 hits and Callahan had two hits and 2 RBIs. 
The Cougars are 7-0 on the season.