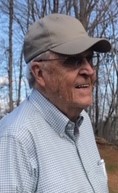 Retired Henry County Circuit Court Judge Kenneth M. Covington of Martinsville, Va. passed on September 11, 2023, surrounded by family. He was born in Martinsville, Va. on January 1, 1929, to John G. "Glennie" Covington and Fannie B. Covington of Ridgeway, Va.
In addition to his parents, he was preceded in death by his wife of 65 years, Norma Pulliam Covington; son, Benjamin "Benny" C. Covington; brothers, J.G. Covington Jr., Billie W. Covington, Jack R. Covington, all of Ridgeway, and sisters, Peggy C. McCall of Rocky Mount, Va. and Jane C. Hargreaves of Tullahoma, Tenn.
Surviving are his son John R. "Randy" Covington (Wendy) of Ridgeway; daughters Kim C. Darnell (David) of Anna Maria Island, Fla., Patti Covington of Martinsville, VA., and Jane R. Covington (Crane Jones) of Brentwood, Tenn.; grandchildren, J.R. Covington Jr., David Darnell Jr. (Allie), and Anne Marshall (John); great-grandchildren, Hudson Darnell and Bennett, Maddie, and William Marshall.
Judge Covington was a lifetime member of Broad Street Christian Church where he served as deacon, elder, trustee, and former chairman of the board. He graduated from Bluefield College and T.C. Williams School of Law at the University of Richmond. He served in the U.S. Army in Korea during the Korean Conflict as a member of the KMAG as an advisory member to the Korean Army Judge Advocate General, helping to establish a judicial system for the Korean Army.  During this service, he became an honorary member of the Korean Bar and earned a bronze star.
Following his military service, he served Henry County as Commonwealth Attorney for 12 years and then as Judge of the Martinsville Municipal Court and Henry County court, which later became a district court. He retired as a Judge of the 21st Circuit Court of Virginia and was known widely for his wisdom, fairness, and knowledge of the law. "Practicing in front of Judge Covington was like taking a post law school graduate course in litigation", said Retired Circuit Court Judge David Williams, who practiced before him as both a private and commonwealth attorney.
As a native son of Martinsville-Henry County, he deeply loved this community and its people and had an encyclopedic knowledge of its history. He judged people in the courtroom but not in life: his grace and kindness touched many lives, both inside and outside of the courtroom. His mind and spirit were ageless: he learned to play guitar in his early eighties and purchased a home on a trout stream in his late eighties, where he enjoyed the natural beauty of Carroll County and spent many great times with his Laurel Fork friends.
A visitation will be held on Friday, September 15, 2023, from 5-8 p.m. at Broad Street Christian Church, 106 Broad Street. A graveside service will be held at 11:00 a.m. on Saturday, September 16, 2023, at Oakwood Cemetery, 107 Cemetery Street, Martinsville, Va. and will be officiated by Reverend Tim Mills.
Memorials may be made to Broad Street Christian Church, Old Well Christian Church, or the SPCA of Martinsville-Henry County.
McKee-Stone Funeral Home, Martinsville, Va. is serving the family.
To express condolences online, please visit www.collinsmckeestonemartinsville.com