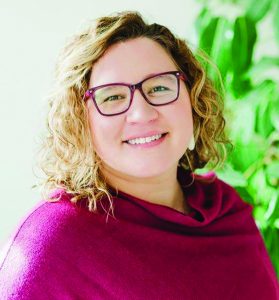 A lack of integrity, accountability, and transparency are among the issues prompting Erica Cipko Wade to seek the Circuit Court Clerk's post in November, and she cited one example at a recent forum, asserting that two people had been asked to leave the clerk's office.
In her bid for office, Wade, 33, will face challengers that include interim clerk Morgan Boothe and Nancy Belcher.
During an update to the Patrick County Board of Supervisors, Boothe said she asked Patrick County Sheriff Dan Smith to look into the assertions.
Wade said because the request was made by clerk's office employees, deputy sheriffs assigned to provide court security were not involved and had no knowledge to share when Patrick County Sheriff Dan Smith inquired about the incident. 
As for the issues that propelled her to run, Wade said they "can be addressed with an appropriate leader and viable training that all clerks and deputy clerks participate in."
Another issue she has heard about is the potential turnover in the office if Wade or Belcher are elected.
"I can say with all confidence that if that is the case, then I welcome all deputy clerks to apply and also open the doors for any new applications so that there can be a cohesive office that will be able to uphold the standards of our clerk's office," she said.
"There's a budget for staffing, and if there is any additional funding that can be found with grant funding for employees, then I would be very interested in seeking those options," she said.
Wade said a Secure Remote Access Portal, currently only available to attorneys and title searchers at a cost of $50 per month, could be expanded to genealogists and the participating public, with any additional funding used to help cover expenses.
Additionally, Wade said the staff lacks diverse and cross-training.
"I believe that one of the reasons is because our former clerk (Sherri Hazlewood) kept the deputy clerks in the office, doing their own jobs only," Wade said. "As far as cross-training, it was very minimal other than recording of deeds. There are specific criminal clerks and there are probate clerks."
Given those circumstances, if the office was closed such as during the Covid pandemic, Wade said work would get backed up, "and that's what was happening for the past few years, and can still happen here at the clerk's office because of the lack of cross-training." 
Wade works with the clerk's office on all types of matters that would be filed in the clerk's office, including work on civil cases, divorces, adoptions, real estate matters, deeds, deed searches, probate filing (with attorney Chris Corbett as a Commissioner of Accounts), and she has worked in the criminal field.
"I have seen the actual intricacies of all these things and how they're supposed to work, and when they're supposed to be filed and when they're supposed to be delivered to various offices like the sheriff's office. So, I know the timelines and I know the background of what this information is," she said. "I have seen the clerk's office work at its highest peak when Ms. Gasperini was there, and I see where it is currently.
"I want the public to vote for me because I want them to have the confidence that they currently have in me as a paralegal at Chris's office and Wren's (Williams) office. I just possess the qualities that a clerk of court should have," Wade said.
A Patrick County native, Wade is married to her husband, Robbie Wade. The couple have a six-month-old daughter, Evelyn.
Wade received an advanced degree from Patrick County High School (PCHS). She also received a B.S. in biology from Longwood University and has received training in fire and Emergency Medical Services (EMS).
Wade worked at Hall's Plants while in high school and again briefly after coming home from university. She started working at Corbett's law office in 2011 and then Schneider & Williams, P.C. in 2018.
Wade also serves on the Stuart Town Council. As a council member, if elected Wade said she would step down due to a potential conflict of interest.
In her spare time, Wade enjoys camping, going to music festivals, being a mom, and running rescue calls with the Stuart Volunteer Fire Department.