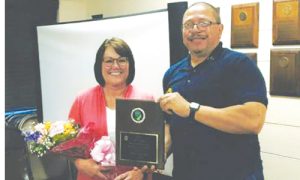 The Patrick Springs Ruritan Club was honored to present Mrs. Terri Leviner with flowers and a plaque as their 2023 Mother of the Year.
Mrs. Julie Walters Steele, a member of the Patrick Springs Ruritan Club, wrote the following article about Terri.
It has been an honor to work with Terri Leviner at the Reynolds Homestead for the past 12 years. She is one of the smartest and hardest working women I know. Not only does she work hard at the Reynolds Homestead, but she also makes even more effort nurturing her family.
During our years working together, I've seen the abundant love that Terri has for her extended family, and the joy she has spending time with them. Not only is she a mother to her sons, Dustin and Tommy and stepsons, Josh and Daniel and their families, she also is a mother figure to her nieces and nephews. Terri's face glows bright when she talks about her grandchildren and the staff at the Reynolds Homestead always enjoys their visits with "Nannie."
Terri is also the mother hen of the Reynolds Homestead and always keeps the rest of the "chick" in line. Just as she does for her family, you will find Terri cleaning and cooking for the Homestead. She oversees finances at the Homestead and holds us all accountable to make sure we don't outspend the budget. Terri's warmth, love and laughter are a staple of life at the Reynolds Homestead. She is the glue that holds the Reynolds Homestead together.
As you can tell from Julie's article, the Patrick Springs Ruritan Club had the honor of selecting Mrs. Terri Leviner as their 2023 Mother of the Year.