The annual Patrick County Community Health Fair is slated for 8 a.m. -2 p.m. on Friday, October 20 at Rotary Field in Stuart. Sponsored by the PC Long Term Care Committee, the event offers speakers on relevant topics, breakfast and lunch, and a vendor fair, all at no charge to attendees.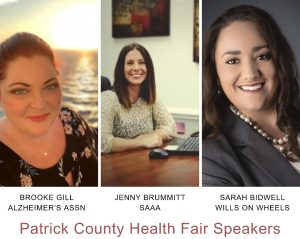 Of note this year is that the health fair is not geared solely towards seniors. Terri Alt of Patrick County Extension said, "We wanted to open the event up to adults of any age who might be interested in planning for their futures, who might be caregivers to older adults, or who are working in senior care fields. Everyone needs to be familiar with these subjects as they affect all families regardless of age."
The event begins with registration at 8:00 am at the Hooker Building with a light muffin, fruit and coffee breakfast available. Speakers on tap include a representative from the sheriff's office about services available to the community, followed by Brooke Gill from the Alzheimer's Association with her presentation "Ten Warning Signs of Alzheimer's." 
Jenny Brummitt from the Southern Area Agency on Aging will speak about Warning Signs of Suicide, an issue that affects many families in rural areas. For those who need to understand the sometimes-intimidating process of "getting your affairs in order," Sarah Bidwell, owner of Wills on Wheels, will discuss the legal documents that everyone, regardless of age, should have in place.
After the symposium segment of the event, a free lunch will be provided to the first 75 people who register at the door, and the vendor fair will open in the agricultural building next door. "We have 24 vendors who will be on site Friday," says Landmark director of community relations Lisa Martin. "Blood pressure checks, services, home health agencies, insurance agencies, really all areas that serve community health in our area."
The vendor fair will last from noon to 2 p.m., and participants do not have to attend the symposium to visit the fair. However, the doors will not open to the fair until noon.
This event is free to the public and door prizes will be awarded during the symposium and vendor fair. The Patrick County Long Term Care Committee is comprised of representatives from Southern Area Agency on Aging, The Landmark Center, Blue Ridge Therapy Connection, Patrick County Extension, Patrick County Health Department, and Social Services.