The above picture belonged to William Woolwine DeHart and was shared with Gail Harding by DeHart's daughter, Miss Belle Boothe DeHart, who passed away in 1986. The picture is now housed at the Patrick County Historical Society and Museum. 
Gail Harding was able to identify several folks in the picture with the help of the late Mr. Fred Clifton. The photo was taken on July 25, 1931, at Vesta at a reunion for the pupils of the Blue Ridge Institute.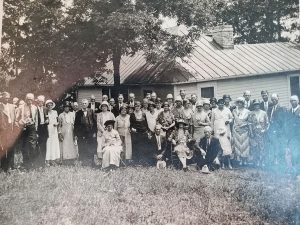 According to Mr. Clifton, the group included Mrs. Canie Lewis (seated, with black hat); Miss Hattie Hylton (daughter of Ballard Preston Hylton, whom Ballard community is named for); the Owens brothers; Mrs. Fay Reynolds; Lizzie Cockram; Staples brothers; Larkin Cockram (Patrick County Treasurer for years); Tom Hopkins; Joe Ingram; Lilly Hylton Cockram; Alvis Cockram; Fay Reynolds (superintendent of schools for many years, directly in front of the tree); S. A. Thompson (front row, in three-piece suit, minister and lawyer); Ed Reynolds; and Jeff Cockram. 
According to the History of Patrick County, Virginia, Mrs. Vergie Thompson Tilley wrote the following, "In 1887, Owensville, the village now known as Vesta, became the site of the Blue Ridge Institute of Higher Learning. Under the direction of George W. Owens, teachers were attracted from as far away as Texas. Students, too, often came from sufficient distances that they boarded in the community. George Owens led his faculty in teaching mathematics, history, English, surveying, music, and penmanship. The fine Spenserian hand taught by the professional penman, Mr. Willard, is said to have survived on the mountain. Though the school closed within a few years, it has lived in the hearts and ambitions of the descendants of those students, scattered throughout the world." 
I have tried to find out more information about Mr. Owens and I did find a George W. Owens, born in Kentucky in 1831, who married Josephine McClain and was working as a book agent in Christiansburg in 1880. The couple had two children, George Lamar, who moved away at a young age and John Elzie, who married Mary Ann Dalton from Stuart. John Elzie Owens and wife, Mary Ann raised at least ten children in Patrick County. 
George W. and Josephine McClain Owens are buried at Creasy's Chapel Methodist Church cemetery and son, John Elzie and his wife, Mary Ann are buried at Peter's Creek Baptist Church cemetery. I have been unable to confirm that this George W. Owens was the same gentleman that started the Blue Ridge Institute. If anyone can verify this is the same George W. Owens, I would love to know. 
Woody may be reached at rockcastlecreek1@gmail.com or (276) 692-9626.