Have you ever known anyone who was granted a pardon from the President of the United States of America? I doubted that anyone from Patrick County had ever received one until Ron Martin discovered that his ancestor David Harbour Martin was granted a pardon by President Grover Cleveland in 1888. More about that later……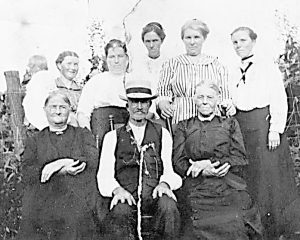 For the past few weeks, we have been learning about the sons of Moses Josephus Martin, Jr. and Sarah Moles; this week we will learn about their son David Harbour Martin who was born on the 11th of July of 1846. He was only sixteen years old when he enlisted with the 51st Virginia Infantry, Company F at Giles County, Virginia. David had joined alongside his older brother, William Green Martin on the 20th of February 1863. David was captured at Waynesboro on the 2nd of March 1865 and was confined at Fort Delaware until a month after the war ended. 
Upon returning from the war, David married Miss Harriet Elizabeth Bowling, one of eleven children born to William Green Bowling and Nancy Moles. In the 1870 census, David listed his occupation as a shoemaker and he and Harriet were living in the Elamsville district with their one-year-old daughter, Minerva Annie. Over the next eleven years, the couple had six more children, John Bishop, Tyler Pinkney, Harbour Reed, William "Willie" Beamer, James M. and Nancy Virginia. Sadly, James only lived to be 8 months old. 
Over the next twenty years, David and Harriet moved from Elamsville to the Pine Creek district of Carroll County where David continued to list his profession as a shoemaker. It was during this time that David was pardoned by President Cleveland. "To all to whom these presents shall come, Greetings. Whereas, at the November term, 1888, of the United States District Court for the Western District of Virginia, David H. Martin was convicted on a charge of violating the Internal Revenue laws and sentenced to thirty days imprisonment and to pay a fine of one hundred dollars; and whereas, the offense of which he was convicted was comparatively of an unimportant character and not committed with any criminal intent; and whereas, he has now served out the term of imprisonment to which he was sentenced and is only held for the fine he is too poor to pay; and whereas, he is a cripple and in bad health, having a large family requiring his presence at home; and whereas, his pardon is recommended by the District Attorney and asked for by the Hon. Charles T. O'Ferrall and others: Now, therefore, be it known, that I, Grover Cleveland, President of the United States of America, in consideration of the premises, divers other good and sufficient reasons now thereunto proving, do hereby grant to the said David H. Martin, a full and unconditional pardon. In testimony whereas, I have hereunto, signed my name and caused the seal of the United States of America to be affixed. Done at the city of Washington, the twenty-sixth of December, A.D. 1888, and of the Independence of the United States, the one hundred and thirteenth. Grover Cleveland, By the President, T. H. Bayard, Secretary of the State"
In the 1908 Danville, Virginia business directory, David and Harriet were living on Spencer Avenue in the Schoolfield Mills district and David was working as a jeweler and watchmaker. By 1910, the couple had moved back to Stuart where he continued his work as a jeweler, and they ran a boarding house, livery stable, and blacksmith shop where the Stuart United Methodist church parking lot is now located.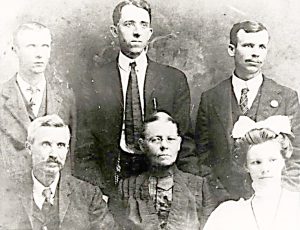 David and Harriet's oldest daughter Minerva Annie married Benjamin Gray from Mayodan, North Carolina; they had seven children before divorcing in 1898. Minerva then married James Cordle Spangler and the couple moved to West Virginia, where she ran a boarding house, and he worked in the coal mines. After Spangler passed away from black lung in 1929, Minerva returned to Stuart where she married Richard Jasper Rhodes in 1931. Rhodes passed away in 1936 and Minerva then married James Linville Walker, who owned the Goblintown Grist Mill and store in the 1930s.  
David and Harriet's son, John B. (named for his uncle who had been executed during the Civil War) worked as a jeweler and watchmaker, as well. His business was located at the little gray and white house in the curve just above the Old Dominion restaurant. John B. married Sallie Lou Cruise and they had seven children before divorcing. He then married Ina Odessie Marshall. 
David and Harriet's son, Tyler Pinkney was a farmer who also made moonshine whiskey. Tyler married Alaminta "Allie" Hughes and the couple had ten children. Tyler's niece, Ellen Martin Fulcher, the daughter of Willie Beamer, shared that she remembered visiting her uncle and she couldn't figure out why they kept jugs in the creek. She was told it was to keep the "water" cold. 
David and Harriet's son Harbour Reed married Minnie Etta Fain and they also had ten children. Harbour worked in one of the cotton mills in Leaksville, North Carolina before returning to Patrick County.
David and Harriet's youngest daughter Nancy Virginia married John Tilton Perry from North Carolina and they made their home in the Burlington area. When Perry passed away, she married Walter Thomas and continued to live in Alamance County. 
David and Harriet Bowling Martin were charter members of Stuart Primitive Baptist Church. David Harbour Martin passed away in 1920 at the age of 73. Harriet lived for 18 more years and passed away in 1938 at the age of 91.  At the time of her passing, Harriet had 31 grandchildren, 87 great grandchildren, and 16 great-great grandchildren. 
Next week, we will take a closer look at David and Harriet's son Willie Beamer Martin. I want to say a special thank you to Ellen Martin Fulcher, Ron Martin, and Andrew Feldman for providing information for this column and to Amy Suzanne Martin for sharing the photographs. 
The Martin and Bowling photograph is front row left to right: Caroline Bowling, David Harbour Martin, Harriet Elizabeth (Bowling) Martin. Back row left to right: Minnie Fain Martin, Ingle Belle Handy Martin, Allie Hughes Martin, Sallie Cruise Martin, Virginia Martin Perry. 
The Martin family photograph is front row: David Harbour Martin, Harriet Elizabeth (Bowling) Martin, Nancy Virginia Martin. Back row: Tyler Pinkney Martin, John Bishop Martin, Willie Beamer Martin. 
Woody may be reached at rockcastlecreek1@gmail.com or (276) 692-9626.