Several weeks ago, I wrote about Mrs. Mary Clark Mooney's father, William Hughes Clark, building a mill downtown on the Mayo River. Clark built the mill in 1885 and ran it for several years before selling it to Robert Lee George and Thomas Jefferson George of the Francisco community of Stokes County, North Carolina.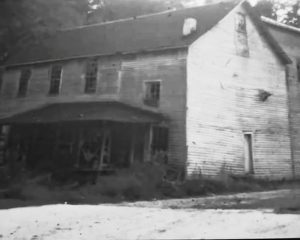 The George brothers were very familiar with what it took to run a successful mill. Their father, Robert William "Bob" George, was a minister who also owned a successful mill in Stokes County. Reverend Bob and his wife, Margaret Hatcher George, had a houseful of children, but for this story, we will focus on the two sons that moved to Stuart – Robert Lee and Thomas Jefferson George.
Thomas Jefferson (T. J.) George married Miss Minnie Handy, the daughter of Beverage Handy and Rebecca McGhee Handy on the 4th of May 1904. Robert Lee (R. L.) George married Miss Elva May Shockley, the daughter of John Calvin Shockley and Lelia Howard Staples in January of 1908. In the 1910 census, the George brothers and their little families lived next door to each other. R. L. listed his occupation as dry goods salesman and T. J. listed his occupation as merchant.  
On November 4, 1913, tragedy struck. R. L. George died suddenly. It was believed his death was caused from a fractured skull he had received over a year before and never quite completely recovered. He was survived by his wife, Elva and his two sons, Robert William George and John Shockley George. 
J. George continued to run the mill, which was known as the largest in Patrick County. George's Mill manufactured flour and corn meal as well as cattle and horse feed. The George's built a large home across the road from the mill where they raised their children, Thomas Leonard, William Brooks, Thomas Jr., Bruce Handy, Garland Hatcher, and Margaret Ann George Anderson. 
J. George also served as president of the First National Bank of Stuart which was located downtown. According to the late Charles C. Baughan, from 1920-1935, national currency notes were issued by the bank with the signature, Thomas J. George. These banknotes were lawful money but not legal tender since they were just obligations of the bank officials.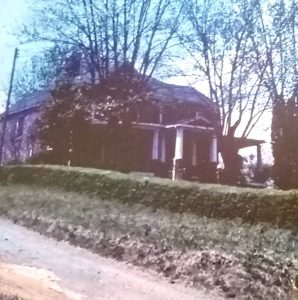 J. George also served as the delegate from Patrick County in the Virginia House of Delegates for the terms 1926-1929; 1934-1935; and 1946-1949. T. J. George's nephew, John Shockley George, served as delegate from Patrick County from 1950 until his tragic death in a car accident in 1951. 
John Shockley George was the son of Robert Lee and Elva Shockley George. John S. had also served as a supervisor for Patrick County from January of 1944 to December 1949. He also owned the building beside the post office, now known as Uptown Suites, and owned by Leslie Marsh. Just prior to his death, he had purchased the Patrick Springs Hotel.
In the 1950 census, 68-year-old T. J. George listed his occupation as manager of Stuart Milling Company and his son Bruce was listed as bookkeeper for Stuart Milling. Sadly, both men died in 1955, Bruce was only 38 years old. 
I was born in the sixties, so I don't remember George's Mill when it was in action. The funny thing that I do remember is the small entrance door on the Route 8 side. The entrance was so close to the road that if you were not careful when you stepped out of the door, you would step out right into the road. George's Mill was torn down in the late 1980's as part of the flood control project by the Corp of Engineers. The only memory remaining of George's Mill is the T. J. George Memorial Bridge downtown where Route 8 crosses the Mayo River. 
Woody may be reached at rockcastlecreek1@gmail.com or (276) 692-9626.