Last week, we looked at the arrival of the Stanleys in Patrick County in the late 1700's. Zachariah Stanley, Sr., Zachariah, Jr., and John Stanley, the gunsmith were the first three generations to live in that unique little area where Patrick, Floyd, and Carroll County come together.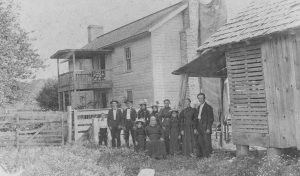 John Stanley and wife, Malinda Barnard Stanley had fourteen children over a period of twenty-six years, with Hiram being the oldest. Hiram was born just over the Patrick County line in Carroll County on the first of January 1828. He married Miss Lucy Ann Conner, the daughter of Elder Daniel Columbus Conner and Anna McAlexander Conner on the 29th of January 1852. 
Hiram and Lucy Ann set up housekeeping in the Bell Spur area of Patrick County and their first son, John Conner Stanley, was born eleven months later. We will look at John in depth next week. 
Hiram and Lucy Ann's second child, Annie, was born two years later in April of 1854. Tragically, she died only eleven years later. In the Patrick County death records, it states the cause of death (like so many others) is unknown. 
The couple's next child, Malinda, was born in June of 1856. She married Charles William Blancett of Stokes County in 1883 and the couple settled in Westfield, North Carolina where they raised their three children, Lucy Ann, Samuel Madison, and James Reed Blancett. 
Daniel Stanley, the fourth child was born to the couple on the 28th of September 1858. He married Miss Adaway Smith, the daughter of Issac Jones Smith and Finetta Weeks Smith. Daniel and Adaway began farming in the Bell Spur Community and had four sons and two daughters, Isaac Jones Stanley, Hiram Lester, Malinda Ethel, Josiah Albert, William Jennings Bryan, and Louisa Oma.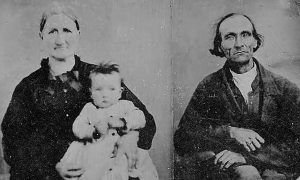 The fifth child of Hiram and Lucy, William Stanley was born in June of 1861 and married Miss Louisa Smith, who was also the daughter of Isaac and Finetta Smith. William and Louisa had nine children, Nora, Adaway, Walter, Mary, Lucy, Anna, Bertha, Dewey, and Virgie. Can you imagine all the double first cousins between Daniel and William's children? 
Amanda Stanley was born to Hiram and Lucy in April of 1864. She married Samuel W. Collins on Christmas Day 1892. Samuel was the son of Robert and Zidanie Bolt Collins. Amanda and Samuel had a farm in Meadows of Dan where they raised their one son, John Madison Collins. 
Mary "Molly" Stanley was the seventh child of Hiram and Lucy. She was born in January 1866 and never married. She remained with her parents and later on, her sister, on the Stanley family farm her entire life. Molly was known for the beautiful quilts she crafted. 
Isham Barnard "Barney" Stanley was born to Hiram and Lucy in December of 1867. He married Miss Rosalie Barnard, who interestingly was the daughter of Isham Nathaniel Thompson Barnard and Mary Jane Webb. There were three Isham Stanley's in the community during the same time frame. The other two were Isham (son of John and Malinda Barnard Stanley) who married Lucy Safrona Pendleton and Isham Barnard Stanley (Isham and Lucy's son) who married Laura Belle Rorrer. Whew! 
The ninth child born to Hiram and Lucy Conner Stanley was Larkin McKinley Stanley, born in September of 1870. Larkin married Miss Mahala Susan Blancett and the couple moved several times, from Pulaski to Maryland to Pennsylvania. Larkin and Mahala had three children, Elisha, Maggie, and Lelia. 
Baby Isaac Stanley was the tenth child of Hiram and Lucy and tragically, only lived one year from 1873 to 1874. Their next son, Josiah, was born in 1875 and only lived four years. 
By the time Hiram and Lucy's eleventh child, Madison "Matt" Jennings Stanley was born, Lucy was 47 years old! The picture shown above is shortly after Matt was born to the couple. Matt Stanley was only four years old when his father, Hiram Stanley died of heart disease at the age of 55. 
In November of 1902, Matt married Miss Nancy Ellen Cock, the daughter of Enoch and Elizabeth Marshall Cock of Meadows of Dan. Tragically Nancy died only six months later in May of 1903. Matt remarried in April of 1907 to Miss Virginia Velma Marshall, the daughter of Harbert and Valeria McGrady Marshall of Meadows of Dan. A year later, their daughter, Gladys Eva was born on the Stanley farm and shortly after her birth, Matt and Virginia and baby Gladys moved to Montrose, Colorado. Heartbreak occurred again only two years later when Virginia died in Colorado in 1910, leaving Matt with a toddler to raise on his own. Matt never remarried or returned to Virginia. 
Lucy Conner Stanley remained on the Stanley farm until her death in 1907. Pictured above is Lucy at the home she and Hiram built in 1880, flanked by three of her children and some of her grandchildren from son John Conner Stanley. After Lucy's death, daughter Molly remained on the farm and her sister, Amanda, her husband, Sam Collins, and their son John moved in. John and his wife Gracie Marshall Collins lived there until John's death in 1968. Just prior to John's death, the home was sold to a development company and sadly, was torn down in the mid 90's. 
Thank you so much to Hilda Stanley Vivier for graciously sharing photos and family history. Woody may be reached at rockcastlecreek1@gmail.com or (276) 692-9626.