For the past two weeks, we have been learning about the first four generations of Stanleys to move to the area, starting with Zachariah Sr., Zachariah Jr., John the gunsmith, and Hiram Stanley. This week, we will look at the fifth generation and the oldest son, John Conner Stanley of the oldest son, Hiram who was the oldest son of John the gunsmith.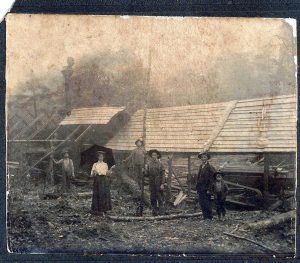 John Conner Stanley was born on the third of December 1852 to Hiram and Lucy Ann Conner Stanley. John married Miss Martha Frances Adams, the daughter of Reverend Samuel Greene Adams and Lucy Ann Barnard Adams of Westfield, North Carolina. Samuel was the son of Reverend Joshua Adams, the much beloved and popular minister from the Patrick Springs area.  Hilda Stanley Vivier related the following story about John and Martha's long wedding trip home to Laurel Fork…my sister was fifteen when Grandma (Martha Frances) died, and Grandma told her about the day they were married. Grandpa was twenty-eight and she was twenty-three. John and Martha married on the 23rd of December 1880, they came up the mountain on a wagon road that was so muddy from the rain and the ruts were so deep they could barely travel." Hilda and I discussed their journey, and it was likely they traveled along Jar Gap to make their way home.
Hilda also shared the following story about her grandparents, "John had built a home for his new bride, and it wasn't quite complete when they married. I don't know why, but Grandma left a lot of her dowry, household items, linens, etc. in the unfinished house while they lived with John's parents, Hiram and Lucy. Flying squirrels got into the incomplete house and destroyed the handmade linens, lace, and crocheted bedspreads."
The young couple's first child, Samuel Hiram Stanley, was born on the 20th of February 1882. At the age of twenty, he married Miss Orleana Marshall, and they had two young children before Orleana died in 1905, at the age of seventeen. Samuel next married Miss Almenda Saterfield in 1908; the couple had one child who only lived a couple of months. Shortly after the death of their child, Almenda died from tuberculosis. Samuel then married Miss Tennie Culler and they also lost a child, but then had two more children. The young family moved to Baltimore, Maryland for Samuel to find work when World War I struck. Samuel served bravely and achieved the rank of Captain in the service. After the war, he started a Coca-Cola bottling plant in Annapolis, Maryland and was the Vice-President of the Maryland Bottling Association when he passed away in 1931.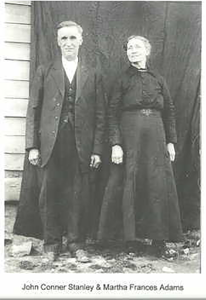 John and Martha's second child, Lucy, was born on the 8th of January 1884. Lucy married Thomas Jefferson Taylor of Surry County, North Carolina. The couple moved to Reidsville where Thomas went to work for the Penn Brothers at American Tobacco Company and Lucy raised their three children. 
The third child of John and Martha was a daughter named Louvinia who was born on the third of February 1886. Louvinia married William Byrum Culler and they ran a sawmill in the Laurel Fork area; they had four children.  
Twins came next for John and Martha on the ninth of January 1890, baby boy Posey Dell and baby girl Amanda Belle Stanley. Tragically, Posey Dell died at age of eighteen. Amanda Belle married Dixie Banner King and they had one daughter. Tragedy struck again when Amanda died of leukemia at the age of forty-four. 
Four years after the twins, Mary Jane was born on the 18th of October 1894. Mary Jane married World War I veteran, Ernest Elihu Culler of Laurel Fork. They moved to Hampton, Virginia where Ernest worked in government service and Mary Jane raised their three children. 
The next child born to John and Martha was John Dunkley Stanley; he was born the ninth of February 1901. As a young man, he struck out to Pennsylvania and found work as a machinist. He eventually settled in Annapolis, Maryland where he managed the Coca Cola plant after the death of his older brother, Hiram in 1931. John served as the manager of the plant until his death in 1958. John Dunkley married Miss Lena Dawson from Maryland. 
When their youngest son, Charles Lee Stanley was born, Martha was forty-seven years old, and John was fifty-two. Charles married Miss Audrey Puckett, the daughter of Falus Penn Puckett and Mabel Bolt Puckett. Audrey was born in Indiana where her father had worked as a train engineer, but the family returned to Laurel Fork where Audrey grew up. Charles and Audrey had four children, Carole, Earl, Hilda, and Nelson Stanley. 
So, how did John Conner Stanley and wife, Martha Adams Stanley feed and clothe their eight children? Grass certainly did not grow under the couple's feet! John Conner Stanley ran a sawmill in the last years of the 1800's all the way until his death in 1918. Granddaughter Hilda relates the following story about her grandfather's sawmilling business, "Grandpa sold box cars of lumber to companies in Maryland, West Virginia, North Carolina, and up and down the East Coast. Grandpa also sold a lot of lumber to Mt. Airy Furniture in Mt. Airy, North Carolina. I don't know how they managed to get the lumber to Mt. Airy, but I know the Dinky Railroad went from Mt. Airy to Kibler Valley, primarily to haul lumber and to go by the "spa" at White Sulfur Springs. It is likely too that they hauled lumber using the wagon road down the mountain to Ararat, called Jar Gap, which was in sight of the John Conner Stanley homeplace."  
In addition to the sawmill, John Conner Stanley operated a licensed distillery in the 1880's and also served as the postmaster of the short-lived Pinnacle Post Office from 1891-1894; the post office was located at Squirrel Spur. 
In 1892, John was also appointed Deputy Treasurer by Patrick County Treasurer, S. H. Dunkley. John had the authority to collect taxes (including back taxes) and honorably served in this capacity until 1904. Also, in 1904, John Conner Stanley was hired as a deputy sheriff for Patrick County. Hilda recalled a story that her Dad related to her about her grandpa John, "He had to travel to West Virginia on horseback to pick up a prisoner. On part of his journey, he rode alongside a train and his horse could keep up with the train." 
John Conner Stanley passed away from cancer in 1918 at the age of sixty-five. His wife, Martha lived for thirty-three more years, passing away in 1951 at the age of ninety-three. I am in awe of the ingenuity of John Conner Stanley and how accomplished he was in a time when resources were very limited. 
Thank you so much to John's granddaughter, Hilda Stanley Vivier, for sharing her family's pictures and stories with me the past three weeks. Hilda and her husband still live in and devotedly care for the beautiful home that John Conner Stanley so lovingly built for his new bride, Martha in 1880. 
Woody may be reached at rockcastlecreek1@gmail.com or (276) 692-9626.