Well, I fell in one of those rabbit holes again this week. Saturday, I was at the Patrick County Historical Museum in Stuart (which has some amazing stuff, by the way) and started reading an article about the late Judge Ruth Williams. I got to thinking about what an independent woman she was and where she must have got those pioneering genes.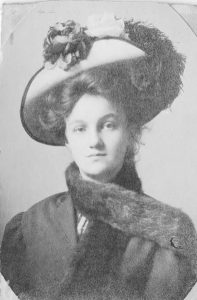 First, a little background for those who don't know Judge Ruth. She was born on the 13th of June 1913 to James Franklin Williams and Marcella Barnard Williams. Ruth attended the small community schools of Five Forks and Creasey's Chapel before she, her parents, and her sisters moved to Blue Ridge Street in Stuart. 
Ruth was the valedictorian of the Stuart High School graduating class of 1930. After graduation, she moved to Roanoke where she attended National Business College. Ruth returned home and went to work as a legal secretary at the law firm of Hooker & Hooker (J. Murray Hooker and John Dillard Hooker). 
In 1934, the trial justice system was established in Patrick County and Ruth was appointed as Clerk of Court. By 1942, John Dillard Hooker was now a judge but resigned to serve in the United States Naval Reserve. Judge Turner Clement appointed Ruth to the position of Judge for the Combined General District/Juvenile Domestic Relations Court. When Judge Hooker returned from World War II, Judge Ruth went back to being the Clerk of Court. 
Shortly after she resumed the business of being a Clerk, Judge Kennon Whittle appointed her to be the Judge of the Combined Courts again. Judge Ruth held that position until 1956, when the two courts separated. Judge Ruth served as Judge of the Juvenile and Domestic Relations Court until her appointment to the General District Court in 1968. Judge Ruth served in that capacity until her retirement in 1978. 
Judge Ruth's mother, Marcella was the daughter of Isham Nathaniel Thompson Barnard and Mary Jane Webb of Meadows of Dan. Judge Ruth's father, James Franklin Williams was the son of Thomas Tunstall Williams and Henrietta Hines of the Peter's Creek area of Patrick County.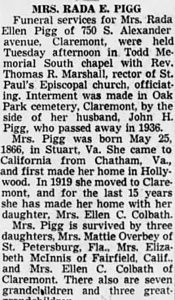 Here is where I fell into the rabbit hole … Thomas Tunstall Williams was the son of Francis Marion Williams. In the 1860 census, the Francis Marion Williams family was living in Swansonville in Pittsylvania County. In the 1870 and 1880 census, Francis Marion Williams was working as a millwright in the Dan River district in Patrick County. Before the 20th century, Francis Marion Williams and most of his family moved again-this time to Palo Pinto, Texas! Thomas Tunstall Williams remained in Patrick County where he raised his family, including Judge Ruth's father, James Franklin Williams. 
Thomas Tunstall Williams' sister, Serrada (Rada) was born in Stuart on the 25th of May 1866. Rada married John Hutchings Pigg in Patrick County on August 7, 1886. Pigg was from the Chatham area and the couple returned there to make their home. Rada was appointed postmaster of the Dry Fork Post office in August of 1899. By 1910, Rada and John were living in El Paso, Texas with their three daughters. Ten years later, the family was living in Claremont, California where they owned a 400-acre citrus farm. According to family lore, Pigg was deciding where to invest his money in a land purchase. He stood on the corner of Hollywood and Vine and reportedly said, "this pile of rocks will never amount to anything!"  
Rada passed away in Hollywood, California on September 23, 1950; she was 84 years old. Judge Ruth passed away on March 2, 1988; she was survived by her sister, Marjorie W. (Mrs. Carl) Ayers. 
Woody may be reached at rockcastlecreek1@gmail.com or (276) 692-9626.