If you travel to the end of Sunset Drive and take a right on Route 642, you will cross over the Oscar A. Pendleton Memorial Bridge that spans Poorhouse Creek on its' way to meet the South Mayo River. Who was Oscar A. Pendleton?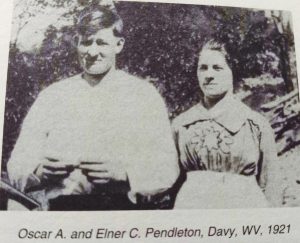 Oscar's great granddaughter, Michelle Morrison, stated, "Grandpa Oscar petitioned the town to build a new bridge leading to the county poorhouse because heavy rains often made the road impassable. The bridge was dedicated in his honor."
Oscar Aaron Pendleton was born in 1897 to Moses Martin "Babe" Pendleton and Martha Adeline Harris Pendleton; Oscar was one of seven children born to the couple. His siblings were Eddie Greene, John Isaac, Clora, Lillie Annie, Mary Jane (Mae), and Inez Texas.
Oscar's father, Babe and his family ran a dry goods store in Meadows of Dan where Helms Road and DeHart Lane come to an intersection and a grain and feed mill across the road on Langhorne Mill Road.
When Oscar turned sixteen, he left home and went to work in the coal mines in West Virginia and Ohio. It was there at the Gulf Smokeless Coal Company that Oscar received his draft board notice on July 20th, 1918; on his WWI draft registration card, he is described as being stout and tall. Oscar completed his basic training at Fort Lee, Virginia and was sent to France to fight in World War I. Thankfully, he survived the war and was discharged at Fort Dix, New Jersey on March 3, 1919.
The following year, Oscar married Miss Annie Elner Craig, the daughter of Billy and Minnie Howell Craig, of the Ballard area of Meadows of Dan. Oscar took his new bride back to Davy, West Virginia where he resumed work in the coal mines and Elner began raising their little family. The first of four daughters, Monnie Delene, was born on the 13th of February 1923, followed a year later by daughter, Wilda born on the 25th of July 1924.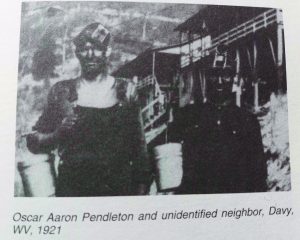 After two of Oscar and Elner's closest friends and neighbors were killed in the coal mines, the couple decided to take their family back to Patrick County. Two more daughters were born to the couple, Thelma in 1929 and two years later, Velma Janice.
Oscar's daughters and grandchildren have many memories and stories of this caring, sensitive, gentle man. Great-granddaughter Michelle Morrison shares that, "Grandma Monnie said they never knew there was a Great Depression until someone asked her about it, because her father, Great- Grandpa Oscar made sure that they grew and harvested enough to support them, help neighbors, and still have some to sell or trade. Grandpa Oscar was worried about sending his daughters to school, so he hired a girl to take care of them during the day. She cut up letters from the Corn Flakes box and taught them to how to read and write. When Grandma Monnie did start school, she only went for three years. but completed seven years of education in those three short years."
By this time, Oscar's parents had sold the store and mill in Meadows of Dan, had purchased a farm near Stuart, and were operating the M.M. Pendleton grocery store, adjoining Patrick Hardware in downtown Stuart. Oscar and his brother, John Isaac continued to run the store after their father's death in 1938 until the store was destroyed by fire on June 17, 1961, when the Patrick Hardware Store burned down.
Losing the store was a tragedy in more ways than the fire, because Pendleton's Store was a gathering place for the community, as everyone loved the Pendleton brothers. The late Kenneth Harbour shared the following memories with me several years ago. "When I began working at United Elastic in the 1950's, me and my coworkers would walk across the street to Pendleton's Store for our dinner break. I can remember Oscar standing behind the counter, slicing and weighing the cheese (which came with free crackers for each nickel's worth of cheese). We all would catch up on the latest news from John Isaac while eating cheese and crackers, Vienna sausages, and bottles of pop." From what I gathered from Kenneth's story is that Oscar was the businessman and John Isaac was the public relations man (smile).  
Daisy DeHart Pendleton wrote the following tribute to Oscar Pendleton in the Enterprise, "Now, this man expected no claim to fame and gave so much of his time to making everyone's life more meaningful, just living his life as a dedicated father, husband, and Christian. And yet, since his death, as you enter the valley, the beautiful drive by the creek, a bridge which spans Poorhouse Creek is dedicated to him. This was done to honor him for his dedicated interest in better roads and bridges for Patrick County. His concern for his family, friends, and neighbors ran so very deep. What a joy to have been the wife or child or friend of a man such as this."
If you would like to learn more about this giant of a man, his late daughter wrote a wonderful tribute to him in the Patrick County Heritage Book, Volume I, 1791-1999. Thank you to his great-granddaughter, Michelle Morrison and the late Kenneth Harbour for sharing their precious memories too.
Woody may be reached at rockcastlecreek1@gmail.com or 276-692-9626.