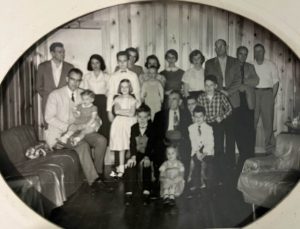 Last week, we began an examination of the late Mr. Walter Anglin's book, "Random Observations." The first thing that I need to do is make a correction. When I listed Anglin's children, Polo, Iris, Arko, and Byng, I failed to mention their fourth son, Charles Walter Thomas Anglin, born 1927 and married Freeda Compton in 1947. C.W.T. and Freeda had two sons, Bruce-killed in a car crash at age 19 and Eugene who passed away in October of 2022. Eugene's widow, Sandra Houchins Anglin, graciously shared the above 1958 photo of Walter Anglin, flanked by his sons, daughter, their spouses, and his grandchildren. Sadly, Walter's wife and mother of his children, Nora Cox Anglin, passed away in 1941. 
This week, we will continue to research some more of the local history and ghost stories included in Mr. Anglin's "Random Observations" book, so here goes some of his thoughts, word for word….
"Across the river from Grandfather Walter H. Thomas' home, long ago, Ed Jefferson and one of his boys was killed by lightning. Blind Dan was one of his sons. Ed Jefferson's mother was a Ross. John R. Clark traces back to this family. Long ago, in the "haunted hollow" here at Woolwine, two men named Lyon were killed by lightning while making shingles. Their home was where Paul Lackey lives. They were Elmer Lyon's kin." (If anyone knows where the haunted hollow in Woolwine is located, I would love to know!) 
"In talking with Fred Dillon today, we revived a long ago story that hovered around a large sycamore tree (7 feet in diameter) that stood on the farm of his mother, Lina Dillon Lee on Rock Castle Creek at the mountain, namely; a ghost man nicely dressed in black would occasionally appear at this tree, and would soon disappear in a mysterious manner; as the stories were told to him by Reed Belcher, who saw it three times, and by Henry Jack Dillon, Harvey Hopkins, and Ada Dillon, who also saw the man in these circumstances." 
"Mr. Dillon says that in his boyhood, he saw a peculiar angel creature with a wing spread of about 7 feet rush in through the branches of this tree and light on the ground and then disappeared in a most beautiful display. The tree is gone now."
"Continuing locally, there are also stories of the Bear Rocks with endless caves, the Tater Hill, the Raven Den, and an earlier settler trail about the gorge of Rock Castle Creek at this part of the mountain, most of which is connected with many oldsters of rare talents, ideas, abilities, and experience. This particular territory is now park land and includes the Rocky Knob on top of the mountain through which is the parkway road. Along this emigrant trail, up the creek in those days, some settled, and many kept on west. They brought many ideas of mechanics and things with them from Europe and put them in operation and practice."
"One of the other stories is that Mary Sheffield said she saw twelve, white-dressed angels sitting in a June apple tree at the Brammer Cemetery. Henry "Squire" Dillon spent his eighty-six years here in the lure of this wonderful wilderness by preference, while he had the ability to be a leader anywhere, and yet, he was here."  
"Hilery Dillon told me that his grandmother told him that a man named Darquiser resided in the mountain west of Woolwine. This Darquiser chased three of his children into the knob forest caught them one at a time and killed them. Milton DeHart said that this story is according to his information too." (Hilery Dillon's paternal grandmother was Lucy Brammer who married James Dillon and his maternal grandmother was Martha Brammer who married Caleb Boyd. Lucy and Martha were both the daughters of John Brammer and Nancy Davis, so whichever grandmother told him this story is very knowledgeable about the Woolwine area). 
"Sam Shelor, a carpenter, once carried the mail here at Woolwine where he would feed his horse from a box nailed to a tree. No fence law then, so hogs would run free, and one learned to bite the horse on the leg, then the horse would bite at the hog and waste some corn on the ground. The hog would eat the corn and then try it over." 
"Dandridge Slaughter once lived where my grandfather Elisha Anglin later lived (next to my Dad's family), now owned by my niece, Anna Ogburn Conway. Abe Burnett of Indian Valley was Slaughter's grandson. Jim Slaughter lived at the Pokey place now owned by my nephew Willis Alver Ogburn. Jim was a deputy clerk at Stuart. He was Tom and Jim Boaz' grandfather. Some old-timers once on this combined farm were Reuben Jones, Jeff Boyd, his son, S. S. Boyd, Jim Compton, an early John Morrison, Bill Harris, Sanderfers, Harbours, Hughes, and Turners." 
The last tidbit I will share from Mr. Anglin's "Random Observations" is this interesting fact. "Wild pigeons used to come here from Ohio in chestnut time in such enormous numbers, that they badly broke the branches of the timber where they roosted. Civilization has exterminated the pigeons, and blight exterminated the chestnut trees." 
It makes my heart happy to read Mr. Anglin's recollections of conversations with my grandfather, among other folks in the community, and to imagine them coming to the post office to catch up on the latest news and share old tales.
I have just scratched the surface of Mr. Anglin's wonderful book. If you have a chance, visit the Patrick County Historical Museum and learn some more "Random Observations." 
Thank you again to Sandra Houchins Anglin. Woody may be reached at rockcastlecreek1@gmail.com or 276-692-9626.