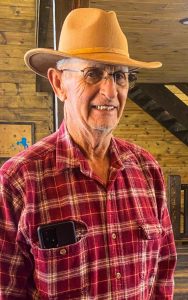 Paul Clinton Rorrer, 81, of Martinsville, Virginia, passed away on the afternoon of April 7, 2023, at Moses Cone Memorial Hospital.
Paul was born on June 30, 1941, to Beamer Lee and Lillie Mitchem Rorrer in Anawalt, West Virginia. He is survived by his daughter, Andrea K. Rorrer and her husband Brian Warren (Salt Lake City, Utah) and his son Ronald A. L. Rorrer and his wife Velvet Rorrer (Denver, Colorado), and his three grandchildren—Anna Sophia Rorrer Warren, Alexander Rorrer Warren, and Nickolas Rorrer. He is also survived by his fiancé Shirley Tatum and her extended family of Angela and Brian Duppstadt and their children Hannah, Allison, and Jack as well as his brother Robert "Jackie" Rorrer (Lu Rorrer, wife, and daughter Lisa). In addition, he leaves behind Mike, Kyna, Angie (Forrai), and Aaron Rose and other numerous loving nieces and nephews. He was preceded in death by Gerda K. L. Rorrer (divorced) and siblings Joann Minnick, Mattie Lou Perry, James "Jimmy" Rorrer, Doris Rose, Mary Ellen Roberts, Lucille Rorrer, and George Rorrer.
Paul, who had served in the Army, received his associate's degree from Patrick & Henry Community College. Prior to his retirement and self-employment, he was a manager with Bassett Walker/Vanity Fair. Alongside Gerda Rorrer, he operated 58 Market for many years and created the Mayo Court Mobile Home Park. He was an entrepreneur at heart and believed in the value of independence, motivation and perseverance, and grit.
Paul lived a full life and never met a stranger regardless of where he was. He was the person you called if you needed anything, as he was always willing to lend a hand and support others. Paul loved spending time with his grandchildren, extended family, and friends. He also enjoyed travel and adventures, hunting, music and dancing, winemaking, and racing. He was a vocal advocate of learning and formal education for his children and for others.
He will be dearly missed in this life.
Visitation and remembrance will be held at Moody Funeral Home in Stuart, Virginia on Thursday, April 13, 2023, from 12:00-2:00 followed by the funeral services at 2:00 and graveside burial at Sycamore Baptist Church Cemetery. In lieu of flowers, the family requests donations be made to the Library Fund at Spencer Penn Center at P.O. Box 506 Spencer, Virginia 24165.