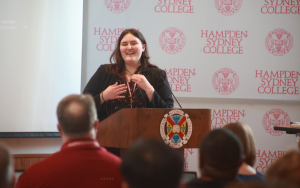 A student at Patrick & Henry Community College earned first place and a $1,000 prize at the second annual RISE Collegiate Business Plan Competition (CBPC) hosted last week at Hampden-Sydney College's Crawley Forum in Farmville, Va. 
P&HCC's Sara Wall, of Martinsville, was among seven teams – totaling 12 student entrepreneurs – who presented their business pitches to a panel of judges and a live audience. The teams came from four different institutions of higher education in Southern Virginia, including Averett University, Hampden-Sydney College, Longwood University and Patrick & Henry Community College. The panel of judges included Anne Tyler Paulek of the Farmville Area Chamber of Commerce and High Bridge Stables (Farmville, Va.); Ilsa Loeser of Letterpress Communications (Farmville, Va.); Logan Ryan of Long & Foster Real Estate (Richmond, Va.); Steve Creedle of Benchmark Community Bank (Kenbridge, Va.); and Varun Sadana of The Launch Place (based in Danville, Va.).
Wall will use the prize funds to help with launching Swam, an eco-friendly products store that will serve the Martinsville and Henry County community. Wall plans to develop the Swam brand by staffing booths at local events and placing products in other stores, such as Made In Martinsville. Her long-term vision includes a brick-and-mortar storefront in Martinsville.  
Wall was one of three entrants in the 2023 RISE CBPC to earn a cash prize. Second place was a tie between Longwood University student Dusten Wood of Chatham, Va. and Longwood University student Danielle Whittington of the Washington, D.C. area. Wood will use his $750 prize fund winnings to continue prototype development and play-testing of his strategy board game designed to enhance social skills. Whittington will use her $750 in prize funds to continue developing her mobile application designed to be an all-in-one mental health resource for college students.
Additional competitors included Jack Whelahan of Hampden-Sydney College, who pitched his jewelry brand; Longwood University students Caitlin Wiley, Jacob Poteat and John Eddy, who pitched their food-waste prevention mobile app; Longwood University student Olivia Hopkins, who pitched her nonprofit catering concept; and Christopher Byrd, Andrew Rabon, Blake Frost and Brayden Fair of Averett University, who pitched "What's Up Water." 
The RISE Collegiate Business Plan Competition is open to Southern Virginia college students of all backgrounds, skills, interests and majors. To participate, students form teams, identify the problem they want to solve and gain hands-on entrepreneurial experience by interviewing potential customers and developing their business plan. Throughout the competition, student teams receive support from faculty mentors. 
Winners of the inaugural 2022 RISE Collegiate Business Plan Competition included five teams from five schools: Project Connect (Averett University), The Ville (Longwood University), Fail Harder Fitness (Hampden-Sydney College), BFX Studios (Patrick & Henry Community College) and You're Not Alone (Danville Community College). 
The RISE Collegiate Business Plan Competition is one of several programs organized by RISE Collaborative that provides access to capital through cash prizes, mentorship and networking opportunities. The 2023 RISE Collegiate Business Plan Competition sponsors include Benchmark Community Bank, American National Bank & Trust, First Citizens Bank, Old Dominion Electric Cooperative, Long & Foster Real Estate, Letterpress Communications and the SOVA Innovation Hub. Information about sponsoring future RISE Collaborative events is online at SOVARISE.com/partners.
RISE Collaborative will continue its pitch competition series on Tuesday, March 28, with the RISE Business Pitch Competition at the Southern Virginia Higher Education Center's (SVHEC) Innovation Center in South Boston, Va. That event will feature 15 aspiring entrepreneurs and existing businesses of all ages and will award more than $15,000 in prize money. Prize categories include the "Start-Up" category for new businesses, the "Grow" category for existing businesses, and the recently announced Female Founder's Fund for women entrepreneurs. For more information, visit SOVARISE.com/business-pitch-competition.