An official with Foresight Hospital and Health Systems gave an update on the company's progress to reopen the former Pioneer Community Hospital of Patrick County.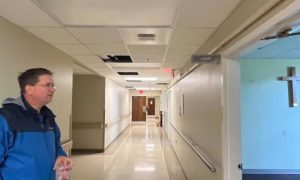 Foresight COO and General Counsel Joe Hylak-Reinholtz said the project has gone much slower than anticipated, largely because of the architect and design/build firm.
"One of our initial goals was to go as local as we could, and there are skilled people here in town and in some cases, the personalities didn't mesh well, but mainly the architect was the biggest problem," he said.
Hylak-Reinholtz said he discovered over time the original lacked the healthcare experience he desired for the project.
"So, we went on a proactive search to find the replacement architect. We talked to local architects here, we talked to the architect that used to work with Pioneer, he was in Atlanta and had to go to his firm, they decided that they did not want to come back and do work in Virginia," he said.
Hylak-Reinholtz said another architect with a lot of experience working on hospitals wanted nearly $700,000 in fees.
"For a project like this, it just wasn't feasible for our budget," he said.
Eventually, the company was forced to look outside of Virginia where it found and chose the Florida-based company Skyworks, LLC, which has healthcare experience.
"Since they've come on board, we've also had a design/build firm that comes with them, so a construction company as well. An out-of-state vendor as well, and they're working on getting their Virginia licenses," he said.
On May 4, Hylak-Reinholtz said a final walkthrough was performed by the asbestos abatement company going forward with permitting.
"We're going to do a complete asbestos remediation within the complex. We've already had a number of water leaks that we've identified, and we've shored those up," he said.
While it may not appear that the project has moved forward, Hylak-Reinholtz said the public will soon notice the work that's being done.  People will notice work being done on the trees, landscaping, dumpsters, and RVs being set up on the property for construction staff to stay in while working on the building.
"Once we do the asbestos remediation, we're going to go right to permitting for interior demo. And there'll be a number of places we start demoing" including the first floor, he said.
Hylak-Reinholtz said phase one of the project will be the construction and renovation of the hospital's first floor, which includes the creation of 10 psych beds, and 15 critical access beds for a total of 25 beds.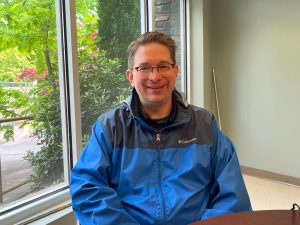 Work will include replacing the ceiling, moving the pharmacy from the basement area to the first floor, combining the current waiting area and files area into a medical files area, adding an inpatient dialysis area, adding American with Disabilities Act (ADA) compliant bathrooms, and other necessary improvements. 
Some of these "units here are not ADA compliant, but you don't have to have all your hospital bathrooms be ADA compliant," he said.
The non-ADA-compliant bathrooms will be in the detox area beds situated near the psych area.
"The larger rooms will be for less ambulatory patients, so like the more senior population," he said.
Hylak-Reinholtz said the construction team's timeline has all of phase one being complete by sometime in December if not sooner.
"That's the construction side. There are clearly other issues that are going to go along with getting this hospital open up that may or may not make that happen. The first" of the two biggest issues "is going to be electronic medical records (EMR) provider and who we select for that," he said.
Hylak-Reinholtz said he hasn't located an EMR product for a smaller hospital that has both inpatient and outpatient services. He said there are currently only two providers, Epic and Meditech, that could cover all the necessities of the hospital, but the prices are the same as for a bigger hospital, reaching about $1 million.
"After those two, there's no other game in town. I mean you could have a different medical record up at your pharmacy, and for your lab, and for your imaging, and they'd all have different systems, and they don't integrate. So, it's a horrible solution if we don't go with Meditech. It's almost like a monopoly in a way," he said.
Hylak-Reinholtz said a second big issue is staffing.
"We had a lot of interest in staffing, and we had a lot of applications come in. But those are, you could almost call it stale because it's been a long time since we put that out there. A lot of those folks may or may not be interested," he said.
Hylak-Reinholtz said the company is still in negotiations with the seller to purchase the Fresenius Kidney Care Patrick County building. Because of this, Foresight decided to look at doing dialysis in the hospital for inpatient dialysis.
"Maybe four chairs, five at most. That would get us up like 10 people roughly, 8-10 people to start doing dialysis right away. That would be a good start to see if we fill that out," he said.
Hylak-Reinholtz said Foresight has never lost sight of this project and remains focused and committed to making it happen.
"We just ask the community to trust us in what we're trying to do here and to know that we have no desire to go away. There have been rumors that we're just going to try and sell the building and walk away, we are committed to this project and making it happen," he said.
Like the community, Hylak-Reinholtz said Foresight would like to see the hospital happen sooner rather than later.
"We are doing everything we can to make that happen," he said.