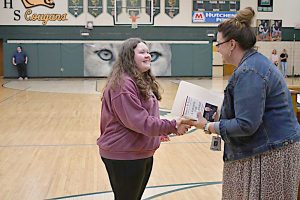 Sabrina Rorrer was recently recognized as the 2023 Patrick County High School recipient of the William & Mary Leadership Award. Established in 1998 to honor young leaders, the William & Mary Leadership Award is presented to one outstanding current junior from each high school in the Commonwealth. Sabrina received a certificate, as well as a book about leadership. 
The award is intended to recognize young leaders in their community. Sabrina is an active student at PCHS, serving as a class officer for the last two years. She is a member of the Scholastic Bowl team.  She is also a member of Gifted and Talented and the Senior Beta Club. In addition to being involved in school, Sabrina works a part time job in her community throughout the year.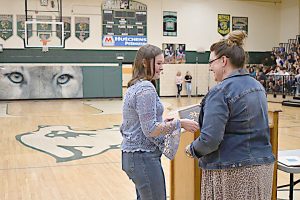 Maria Turner was recently recognized by Patrick County High School as the recipient of The Jefferson Book Award. This award was established to recognize outstanding high school juniors who embrace creativity and innovation and embody the spirit of discovery, much like the University's founder, Thomas Jefferson. Maria received Mr. Jefferson's Telescope: A History of the University of Virginia in 100 Objects, a customizable certificate signed by University of Virginia President, James E. Ryan, and a customizable bookplate.  
Maria is a member of Sr. Beta, the Scholastic Bowl Team, the Spanish Club, and Gifted & Talented. She plays PCHS Varsity Softball and is a member of the Praise and Worship Team. Maria also belongs to the Buffalo Ridge Pentecostal Holiness Church. She completed an internship at The Enterprise this spring and is currently working a summer job in the community.
Maria placed third in the statewide VFW Patriot's Pen contest, earned 1st place (2021) and 2nd place (2022) in the Virginia War Memorial Veterans Day Essay Contest, and placed 2nd place in the Longwood Young Writers Competition. Most recently she was recognized as the 2023 Western Region 2023 Student Creative Expressions Contest sponsored by the Library of Virginia and Dominion Energy.