Three vehicles were involved in a head-on collision on Route 103 on Tuesday, October 3. 
Clint Weidhaas, captain of the Stuart Volunteer Fire Department, said the accident occurred at 6:21 a.m. about half a mile past Elastic Plant Road.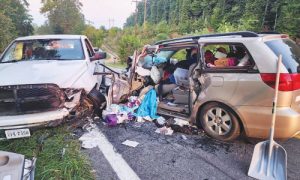 "CCDF Fire & Rescue got alerted of a motor vehicle crash involving three vehicles on (Route) 103 with the road blocked and a severe entrapment of one driver," he said.
Stuart Fire, Francisco Volunteer Fire Department, JEB Stuart Rescue Squad, CCDF Rescue, and Station 8 were also alerted.
"A gold Toyota Sienna van was traveling west on 103 towards Mount Airy, struck a white Chevrolet Express van head on. The van left the roadway and struck a tree head-on afterwards," he said.
Weidhaas said the Toyota Sienna continued on and struck a Branch Highway pickup. Both of the vehicles came to rest in the roadway, blocking the road.
"There was a significant injury to the driver of the SUV," Weidhaas said. The driver "was pinned in by the dash of the vehicle. CCDF along with Stuart Fire and Francisco worked to free the patient which took about a good 28 minutes."
Weidhaas said to free the driver, first responders from CCDF and Stuart Fire removed the driver's side doors completely, cut off the back of the driver's seat completely, and used a spreader tool to push the dash off of the victim's legs.
"These types of rescues can be very technical and time-consuming and taxing for volunteers, but it was a job well done. I think we got the person out in a very reasonable amount of time," he said.
Weidhaas said four people in the white Chevrolet Express van were injured, in addition to the person pinned in, for a total of five.
Two of those injured in the white van were transported by Emergency Medical Services (EMS). The entrapped party, who appeared to have non-life-threatening injuries, was transported to Martinsville Emergency Room due to the road being blocked in the direction of Mount Airy, N.C.
Weidhaas estimated the road was completely shut down for about an hour following the accident. 
The Virginia State Police is investigating the cause of the accident.