Several residents voiced their opposition to solar farms being started in the county at the September 11 Patrick County Board of Supervisors meeting.
Representatives from Energix were scheduled to attend the meeting to discuss the Fairy Stone Solar project but were unable to attend. They requested to be put on the November meeting agenda.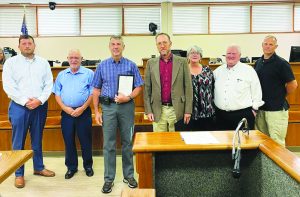 Mary Beth Clement, of the Blue Ridge District, said she's an advocate against solar 'non-farms' on rural land and was disappointed to hear the Patrick County Planning Commission approved the proposed Fairy Stone Solar Project.
"There have been lots of discussions and meetings concerning this topic with most citizens being against such type of resource destruction," she said.
However, Clement said she was not surprised by the Commission's approval after Energix, the solar company, and Energy Rite, an advocate group, gave their presentation as "all the right things were said at that public meeting to give you warm and fuzzy feelings" about the project.
Clement said she's concerned by the push from outsiders trying to force their views on the locality and supervisors, enticing them to go against the wishes of their constituents.
"Solar may very well be a good source of clean energy, but it doesn't have to come at the price of those who call rural counties home. These outsiders are pushing elected officials to go against their voter base and instead permanently sacrifice rural land for solar large-scale utility, mostly in support of Virginia's Clean Energy Act," she said.
Clement said she's come to realize it isn't about "green energy" but rather about "green money" in the form of taxpayer dollars already set aside by legislation in the form of tax credits or "redirecting" tax liabilities to the solar industry to build and operate "non-farms."
"When approached by these companies and groups offer an alternative that could support clean energy and immediately reduce utility costs at the local level by asking for help in seeking grants to install solar on the rooftops of school and government buildings and parking lots," she said.
Clement said another argument organization highlights the potential to lower individuals' utility bills due to the electricity they generate. 
As a resident of Pittsylvania County, which has 23 solar projects, eight of which are complete, she said there is no mention of any tax rate decrease as public officials have stated the funds will be used for capital projects.
"Keep in mind this economic windfall is coming from taxpayer funds already approved in legislation, so if legislation changes, then what," she said. "I encourage you to listen to your constituents and remember they are who you represent, not the solar company or their advocate groups. The solar companies are concerned about money, nothing more."
Ed Pool said that while many aren't opposed to green energy, they are opposed to cadmium telluride, which will be in the panels used in projects here.
"It's a particular panel and a particular chemical that's in there. So, you understand that seven percent of the marketplace – cadmium telluride, 97 percent are polysilicon panels. So, if it's a question of green energy, there's other ways this can go in lieu of something that's that toxic," he said.
Pool said cadmium telluride is the sixth most known toxic toxin to humans.
"For the life of me, I cannot understand why we want to bring that into the county regardless of if it's in solar panels or anything else," he said. 
While he's in favor of green energy, Vance Agee said he thinks it's important that the board either request or draft a defined resolution related to solar farming that's specific and includes the language to prohibit the use of highly toxic materials.
"Following the procedures and protocols for the Board of Supervisors, the resolution needs to be either redrafted or more clearly defined so that it protects our citizens and our environment," he said.
Judson Witham said toxic chemicals in the environment have caused numerous problems across the world. 
"I believe it would be quite wise to study that issue very closely," he said.
Witham said the World Health Organization (WHO) and the World Economic Forum (WEF) recently pushed their 2030 program up six years.
"I don't know precisely where the county stands with some of the sustainability agendas and some of the globalization agendas and some of the United Nation's intentions on stripping away from" Virginia residents of their human and constitutional rights, he said.
Kurt Bozenmayer, a member of the Planning Commission, spoke about 'fearmongering' regarding solar.
Bozenmayer said the company proposing to build the Fairy Stone Solar Project has given several presentations to the public about how the project will take place.
"These presentations have been polite and comprehensive, and the company has answered many of the public's questions to the best of their ability," he said. "But we have a few opponents who appear to be bent on convincing the citizens of Patrick County that solar panels will irreversibly pollute our beautiful county, destroy our farmland, and kill all the fish between here and Portugal."
Bozenmayer said one of the recent fearmongering tactics is to present Material Safety Data Sheets (MSDS) as "scientific proof" of the deadliness of the solar panels. 
An example he stated, "When heated to decomposition it emits toxic fumes" and "electrolysis…. May lead to formation of explosive nitrogen trichloride" to describe common table salt.
"The Board of Supervisors are not professional chemists, nor are they medical professionals, neither is the Planning Commission. They are not capable of deciding whether or not to reject this solar project based on a few documents of questionable relevance," he said.
Instead, Bozenmeyer said he believes any decision at this level must be based on the success or failure of similar projects in similar circumstances.
In other matters, the board:
*Approved resolutions honoring Bill Clark and Glenn Roycroft for their years of service as part of the Patrick County Economic Development Authority (EDA).
*Approved the Aug. 14 meeting minutes.
*Approved the bills, claims, and appropriations.
*Approved a resolution in support of the Critz Community Center's application for a Virginia Transportation Alternative Funding grant, contingent on receiving the necessary information from the group.
*Heard the administrator's report.
*Heard the supervisors' reports.