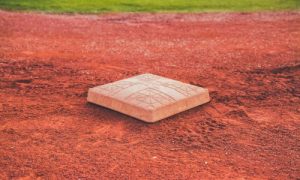 Cougar Baseball Finishes Season with Win
The Varsity Baseball Team knocked off Halifax 6-3 at Cougar Field, Wednesday, May 10. Jai Penn started on the mound going 3.1 innings, allowing 4 hits, 2 runs, walking 4, and striking out 4.  Stuart Callahan picked up the win in relief going 3.2 innings allowing 3 hits, 1 run, walking 1, and striking out 3.  The Cougars were led at the plate by Tucker Swails and Jackson Horton with 2 hits each. Callahan had a 2-run homer in the 6th and scored 2 runs on the night. Martin Sawyers added a 2 RBI single. The Cougars finished the regular season 17-3. The Cougars will host the 1st round of the Piedmont District Tournament, Tuesday, May 16. 
Holt Throws 100th Strikeout of the Season
McKenzie Holt threw 6 no-hit innings, striking out 11 to surpass 100 strikeouts for the season in the 8-0 win over Gretna, May 8. Kursten Hylton closed out the 7th inning in the win. Journey Moore had 3 hits and Holt had 2. Samantha Harris and Lilly Hazelwood both had doubles. The Cougars lost to Magna Vista 8-5 on Tuesday, May 9. Brylee Pike and Samantha Harris each had 2 hits and Journey Moore pitched 5.2 innings, striking out 6. 
Girls Tennis Finishes Regular Season
The Lady Cougar Tennis Team played Bassett Tuesday, May 9 in the Piedmont District Tournament.  The Lady Bengals won 4-1. In singles, Marissa Bentley defeated Taylor Reed 6-4, 6-2, Mia Stowe fell to Hannah Eanes tie break 3-7, 3-6, Madison Mullis fell to Bailey Dyer tie break 5-7, 3-6, Cecilia Leon-Cisneros fell to Evan Parnell 1-6, 1-6, Katie Vernon fell to Laken Porter 2-6, 0-6, and Shyanne Holt fell to Jenna Meadors 3-6, 1-6.  The Cougars finished the season 6-7. They will begin regional play next week.