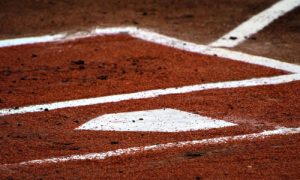 Baseball Gets Big Win Over Martinsville
The Varsity Baseball Team got an 18-0 win over Martinsville, April 13.  Stuart Callahan got the win on the mound.  Jai Penn, Toby Perkins, and Broc Taylor had 2 hits each.  Ty Stowe-Holt, Braedon Augustine, Noah Jessup, and Penn had 2 RBIs each.  
Girls Tennis Gets Win Over Magna Vista
The Girls Tennis Team defeated Magna Vista 9-0, April 11.  Marissa Bentley won 8-1, Mia Stowe won 8-1, Madison Mullis won 8-0, Cecilia Leon-Cisneros won 8-2, Katie Vernon won by Magna Vista forfeit, and Shyanne Holt won by Magna Vista forfeit. Marissa Bentley/Mia Stowe won 8-6, Madison Mullis/Katie Vernon won 8-0, Cecilia Leon-Cisneros/Shyanne Holt wins by Magna Vista forfeit. 
Varsity Baseball Defeats Bassett
The Varsity Baseball Team traveled to Bassett, Tuesday, April 11, getting a 6-2 win over the Bengals.  Tucker Swails went the distance on the mound, pitching 7 innings, allowing 4 hits, 12 strikeouts, and walking 1. The Cougars were led at the plate by Gavin Fain with 3 hits. Swails and Jai Penn had 2 hits each, and Martin Sawyers had 1.  
JV Baseball defeats Martinsville
The JV Team defeated Martinsville 20-0 on April 13. Calvin Lancaster and Easton Harris combined for 7 strikeouts, no hits, and no runs in the 3-inning mercy rule win at Martinsville High School. The Cougars scored 8 runs in the 1st and added 6 in the second and 6 in the 3rd inning. They tallied 15 RBIs led by Easton Harris with 3. Carter Gregory, Eli Bogle, Caleb Geiger, Will Heath and Seth Geiger all collecting 2 each. 
JV Baseball Remains Undefeated
The JV Baseball Team continued its winning streak with a 5-0 win over Bassett, April 11.  
Three pitchers combined for a four hit, 14 strikeout performance. Starter Christian Hylton went 4 innings, allowing 3 hits while striking out 9. Lucas Taylor followed with 2 innings allowing 1 hit and striking out 3. David Lawson closed the game with a 2 strike-out inning. David Lawson had a double in the first, driving in an RBI. Zach Holt added a big insurance run in the 6th, driving in Will Heath. Although the Cougars only managed 3 hits for the night, they put themselves into scoring position by stealing 8 bases, led by Easton Harris's 3 steals and Eric Martinez's 2.