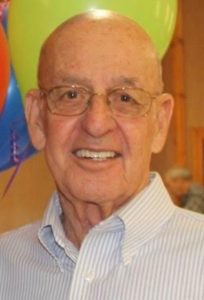 Mr. Temple Neal Bowman, 89, of Ararat, VA, passed away peacefully with family on Sunday evening, October 8, 2023.  Temple was born March 2, 1934, in Patrick County, VA, the first born of Oscar Lawrence and Hattie Belle Marshall Bowman.
Temple graduated from Blue Ridge High School in 1952 at the top of his class.  He lived a fulfilled life as a family man and a businessman. He started his first business at the age of seven, opening a small community country store. Owning a grocery store in Mount Airy and Ararat continued throughout his life. He also had other business ventures that included selling insurance for 20 years, a construction company, a used car business for 29 years, delivering flowers, and was known as the Avon "lady."
One of his favorite honors was serving as an Ararat Ruritan for close to 40 years. During this time, he held all the offices in the club and made lifelong friends. Temple was a people person and loved meeting and talking with old and new friends throughout his life.
He is survived by his wife, Lottie Clement Bowman; a daughter and son-in-law, Dianne and David Lawson; two grandchildren, Wyshona Lawson and D.J. Lawson and his wife, Miranda; two great-grandchildren, David Lawson, III, and Chloe Belle Lawson; two stepchildren, Kathy Tucker and Georgie George and her husband, Ira; three sisters and two brothers-in-law, Gracie Beck, Hazel and Gene Combs, and Mozelle and Posey Stanley; two brothers and sisters-in-law, Wade and Doris Bowman and Leon and Evon Bowman; and special family and friends, Sandra Stanley, Debbie Bowman, Cora Beasley, River Beasley, Kevin Elgin, and Peggy Pack. In addition to his parents, Mr. Bowman was preceded in death by his first wife, Uniter Marshall Bowman; two stepchildren, Bruce Hodges and Barbara Beasley; and a brother, Ersel Ray Bowman.
The funeral service will be held Thursday, October 12, 2023, at 11:00 AM at Doe Run Baptist Church, with the Rev. Terry W. Vaughan and the Rev. Rickey Martin officiating.  Interment will follow in the church cemetery. The family will receive friends Wednesday from 6:00 until 8:00 PM at Moody Funeral Home in Mount Airy, where his body will remain until carried to the church to lie-in-state 30 minutes before the funeral service.
Online condolences may be made at www.moodyfuneralservices.com.