A home on Golf Course Road was gutted by fire on Thursday, June 15, one person was injured, and a family pet perished, according to Clint Weidhaas, Assistant Chief of the Patrick Springs Volunteer Fire Department.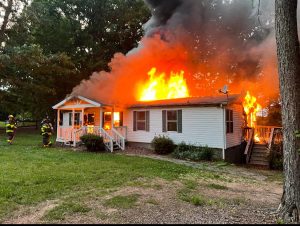 Weidaas said three local fire departments responded to the structure fire after the initial call was received between 8 to 8:20 p.m.
"The 911 call came in as a residence with smoke coming from it. A neighbor saw smoke coming from the residence, so they toned out (summoned) Moorefield Store" Volunteer Fire Department," Weidhaas said.
Within minutes, Patrick Springs was toned out, followed by the Stuart Volunteer Fire Department.
Weidhass estimated the blaze was brought under control within about 15 minutes.
"We had a pretty good knock on it," Weidhaas said. "We brought some manpower, so we were able to deploy two attack lines on that structure and get the bulk of the fire down.
"We knocked the fire down with the remaining structure still standing," he said.
The departments then mopped up the fire hot spots for another hour, Weidhass said, adding that overall, it took the crews on the scene about three hours to complete the call.
Weidhass estimated 8,000 gallons of water were used to extinguish the fire. 
"There was extensive damage to the residence. It was considered a total loss," he said.
Weidhass said one person was injured due to smoke inhalation. She went to the hospital later to be treated.
The family pet died in the fire.
Moorefield Store had one truck and two men, Patrick Springs had two trucks and 14 personnel, and Stuart had two trucks and eight personnel on the scene.
The cause of the fire is currently unknown.