Hi Patrick,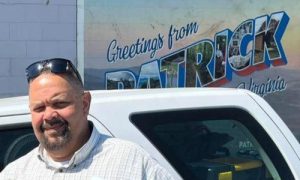 Well, we had a rough Saturday for the Uptown Cruise-In. We had several cars come and fill Main Street. Rotary had gotten the stage, booked the band, and we were ready to go… and "boom," the sky fell. Rain, rain, and more rain. It was a washout!
I do want to thank everyone who came out to support us. The various car owners, the Patrick County 4H Marksmen, Bryce Simmons and the Town of Stuart crew, Superintendent of Schools Jason Woods, Wren Williams, with Schneider & Williams Law Offices, the Entire Main Street Businesses, Wayne Kirkpatrick and the Rotary Club, the Tourism Advisory Council and You, our faithful citizens for working together. If I have missed someone, charge it to my head, not my heart. I am grateful to all of you. 
We will continue pushing forward to bring more activities, events, and shows to our lovely county, continue traditions, and pick up some that have slipped by the wayside. So again, Thank you, Patrick County. We got this. So, join us. "Come Get Lost and Find Yourself Here."
I will talk to you soon.   
James Houchins, Director of Tourism (jhouchins@co.patrick.va.us)