Hello Patrick,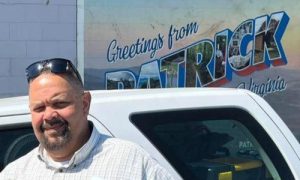 It's been said that Virginia's weather can change in just 15 minutes, especially in our county. I can confirm that I've witnessed this happen more than once.
Tuesday, August 1, was a perfect example of this sudden weather change. We went from sweltering heat to a cool and breezy day. I'm happy to report that the National Night Out event was a huge success. Deputy Doug Perry did an excellent job hosting the event in collaboration with Sheriff Dan Smith and the entire department. Our Community Health Services and Community Support Groups were present and shared valuable information. We were also thrilled with Olivia Jo's concert, and Tourism is proud to have hosted her. 
On the day of the event, our department also attended the Celebrate Tourism Summit at the Wytheville Meeting Center. I'm delighted to share that we brought home several awards. These Tourism Awards were open to tourism organizations, individuals involved in tourism and economic development, and tourism-related businesses in the Southwest Virginia region. Our team won awards for Best Print Ad, Best Magazine Guide, Outstanding New Tourism Business of the Year, and Grace Cooper, who won the Rising Star Award. Our staff, partners, Silver Lining Designs, and the Chamber of Commerce are all honored to receive these awards. As the Director of Tourism, I'm proud to have such a fantastic team. We will continue to bring more activities, events, and shows to our county, revive traditions, and introduce new ones. Thank you, Patrick County, for your support. We invite you to; "Come Get Lost and Find Yourself Here." (jhouchins@co.patrick.va.us)
I'll be in touch soon. 
Best regards, 
James Houchins, 
Director of Tourism