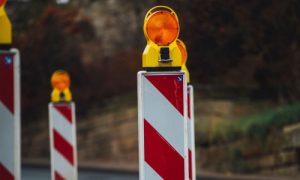 The Virginia Department of Transportation (VDOT) suspended most highway work zones and lifted most lane closures on interstates and other major roads over Labor Day weekend, but work crews were scheduled to return to their respective projects on Tuesday.
In Patrick and Carroll counties, that includes pipe replacements. 
* Local traffic will need to seek alternate routes in the Ararat area of Patrick County and near Gladesboro in Carroll County due to four pipe replacements. Recent heavy rains have washed out pipes on Route 923 (Cabbage House Road) in Carroll County and on Route 645 (Homeplace Road), Route 823 (Spring Branch Road) and Route 735 (Boyd Hollow Road) in Patrick County. Barricades are in place, blocking thru traffic from using these routes. Drivers can use alternate routes in the area around the closures. Crews with the Virginia Department of Transportation will be replacing the pipes which will take approximately three to four weeks, weather permitting.  
* Beginning Monday, September 11, a portion of Route 675 (Friends Mission Road) will be closed to through traffic from 0.60 mile from Route 735 (Boyd Hollow Road) to 0.80 mile from Route 631 (Doe Run Road) for a bridge replacement over Ararat River.  During this time, a detour will be used, and directional signs will be in place to assist the traveling public. Weather permitting, the road will re-open to traffic on Friday, September 29.
* Weather permitting, crews will pave, patch and repair pavement on various routes.  Lane closures may be in place and flaggers may control traffic at times during daylight or nighttime hours.  Drivers should watch for signs and expect possible delays.
* Construction is underway on Lover's Leap area of Route 58. Current work includes clearing and grading activities on the west and east portions of the project. A 45-mph speed reduction is in place on Route 58 for the entire length of the project. Drivers should expect flagging operations during day and nighttime hours. Message boards are in place to alert traffic and drivers should expect delays. Estimated completion date is Summer 2026.
The escape ramp located 2.9 miles east of the Lovers Leap Overlook/Fred Clifton Park and 1.1 miles east of Dehart Botanical Gardens has been permanently closed. Please be aware of brake check points along Route 58 and check your brakes frequently. A brake check point is located 0.6 miles east of Route 610 (Cloudbreak Road) near Poor Farmer's Farm. All trucks MUST check their brakes prior to traveling down the mountain.
Blasting operations are underway on the project. Intermittent blasting will be scheduled between 9 a.m. and 3 p.m. on weekdays and continue at various locations on the project through summer 2025. The first blasting will impact traffic in the vicinity of Dehart Botanical Gardens, approximately 1.7 miles east of the Lovers Leap Mountain overlook and Fred Clifton Park. For blasting that is close to Route 58, traffic in both directions may be blocked for approximately 15-20 minutes at a time. Drive and residents along the Route 58 corridor should expect loud noise and allow extra travel time. Electronic message boards will be used to inform drivers of scheduled blasting that will impact traffic.
While detour signs in a fluorescent pink color are in place, these do not designate a permanent or scheduled detour. The signed detour route is suitable for all traffic during incidents, including tractor-trailers and other large vehicles. These signs are used for incident detours only.
For up to date traffic alerts, 
The most current traffic and road work information can be found by calling 511, downloading the 511 App or visiting www.511virginia.org. On the 511 website, drivers can also sign up to receive personalized traffic alerts, view traffic cameras or download the free Android or iPhone mobile app.
You can also follow 5.11 Twitter feeds for the southwest area of Virginia at @511southwestva or follow @VaDOTSalem on Twitter.
Join our Facebook community group page at www.facebook.com/groups/VDOTSalem for traffic and general information on projects in the Salem District area. The Salem District covers Bedford, Botetourt, Carroll, Craig, Floyd, Franklin, Giles, Henry, Montgomery, Patrick, Pulaski and Roanoke.