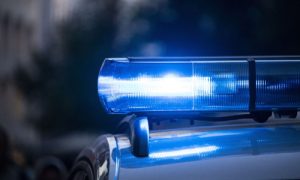 A newly amended Virginia law takes some guesswork out of roadway safety.
As an expansion of the current "Move Over" law, drivers must now move over or slow down for any vehicle on the side of the road displaying flashing red, blue, amber or hazard lights.
The law, first enacted by the General Assembly in 2002, required drivers to change lanes and proceed with caution when passing emergency and law enforcement vehicles displaying red or blue flashing lights, and utility, tow and roadside assistance trucks displaying amber flashing lights on the roadside.
"The change, effective July 1, expands this protection to any stationary vehicle displaying hazard lights, warning signs like an emergency triangle, or flares," said Janet Brooking, executive director of DRIVE SMART Virginia. "An example of a situation like this might be a driver who pulls over to the side of the road to fix a flat tire."
When flashing or hazard lights appear on the roadside, motorists are required to proceed with caution and, if reasonable, yield the right of way by moving to a lane not adjacent to the stationary vehicle. If changing lanes would be unreasonable or unsafe, then proceed with caution and maintain a safe speed.
The law applies only to highways that have at least four lanes, at least two of which are intended for traffic proceeding as the approaching vehicle. A first-time violation could result in a traffic infraction.
"As the summer travel season is in full swing, you may notice more vehicles experiencing emergencies at the side of the road," said David Tenembaum, senior actuarial manager at Virginia Farm Bureau Mutual Insurance Co, a DSV partner. "Now the law is clearer than ever—move over if possible, or slow down when approaching any roadside vehicle with flashing lights."
AAA, the organization advocating for the amended law, reported that 28 people were killed in crashes while outside of a disabled vehicle in Virginia between 2016 and 2020. Though Move Over laws are enforced nationwide, 71% of Americans are unaware of them, according to a poll sponsored by the National Safety Commission.
Earlier versions of the law aimed to protect law enforcement, emergency personnel and highway maintenance workers, said Virginia State Police Lt. Col. Matt Hanley.
"Now your neighbor, coworker, family member, friend and you have been added to this as well," he explained. "Act like it's your loved one on the side of the road—what would you do? You'd slow down, move over, pay attention and give them the space they need."